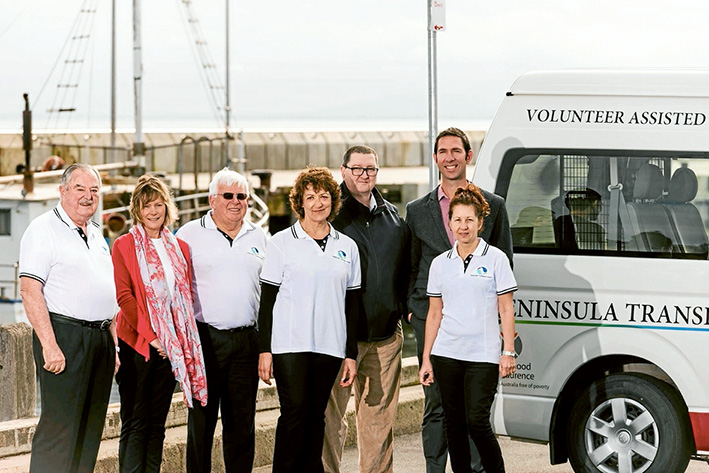 A VOLUNTEER transport service which goes out of its way to get seniors out and about on the Mornington Peninsula has won an Age-Friendly Victoria award.
Peninsula Transport Assist president Neil Toyne accepted the honour at a ceremony at Government House earlier this month.
The service was formed to overcome two issues affecting peninsula residents without transport: the second highest proportion of elderlies in Victoria and the second lowest level of public transport. Added to this is the low proportion of taxis to residents.
These factors combine to make getting around a tall order for a significant proportion of the population and a challenge for PTA organisers Neil Toyne, Andrew Morse and Don Reeves.
To get things rolling, the trio registered the service as a charity in 2013 and formed a working partnership with the shire, the Brotherhood of St Laurence, and Mornington Peninsula Primary Care Partnership.
They found that many community organisations had 12-seater buses that often sat idle due to a lack of volunteers, and mulled over challenges relating to training and managing a volunteer workforce.
Now the service has 50 volunteer drivers, four buses, and another 11 vehicles listed on a bus registry.
"We often underestimate how important the ability to travel is to a person's quality of life," PTA treasurer Andrew Morse said.
"Most people don't give a second thought about their ability to drive a car, catch a train or order a taxi.
"But, for those who experience transport disadvantage, their inability to get around may leave them feeling disempowered, alone and unable to access basic services.
"Our service pools community resources together. By enabling community organisations to drive further for cheaper, we help combat transport disadvantage throughout Frankston and the Mornington Peninsula."
Mr Morse said the service enjoyed a 300 per cent jump in demand last year.
In the Peninsula Transport Assist model a volunteer driver, in their own vehicle, picks up clients from their home to take them to medical, social or other engagements.
"The flow-on effects of this are yet to be quantified but would represent a significant value to the community," Mr Morse said.
Volunteer drivers use their own cars to transport older people by using a central booking system and are reimbursed for kilometres travelled.
"I think it's important to highlight the value to our community of the 'pooled' bus model," Mr Morse said. "It's a win/win situation where our community benefits from the use of idle buses and these organisations receive a financial return that they would not otherwise receive."
As well as a volunteer committee, the service employs three part-time administration staff.
"The service shows how we can make our communities more age-friendly, enabling older people to maintain their autonomy, social engagement, civic participation and wellbeing," Mr Morse said.