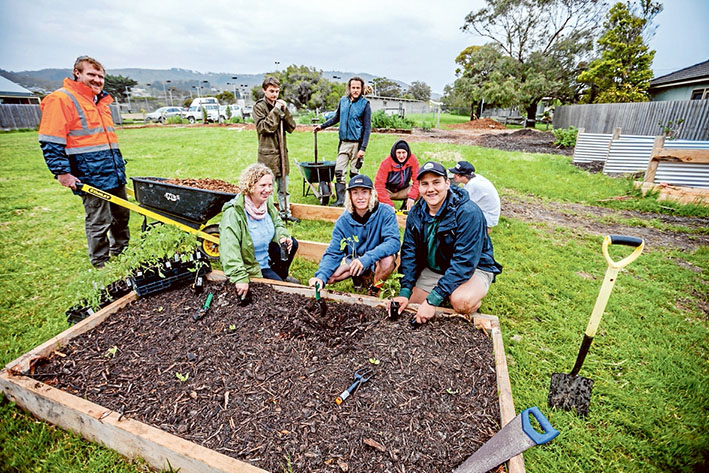 DROMANA Community Garden attributes part of its growth and health to financial support of service groups and Mornington Peninsula Shire.
Lions Red Hill donated $1000 to buy water tanks, and Mornington Peninsula shire gave $5000 to build communal raised garden beds, compost bays and provide for two community days, a spring launch and autumn harvest.
The shire also allocated $16,500 for a small dwelling at the garden, helped along by a budget submission from the Association for Building Community Dromana.
Hardware chain Bunnings donated trees, tools and blood and bone and may be able to provide an expert to help build the large raised garden bed.
"The garden has formed strong partnerships with Peninsula Specialist College and Chisholm TAFE and we look forward to having students regularly in the garden next year," secretary and "project manager of sorts" Samantha Blair said.
"We plan to invite Dromana Secondary College and other local organisations to participate in the garden. We have been joined by many local residents at our monthly working bees and we thank our regulars who come each week. They are really helping to build a strong membership."
Ms Blair said the community garden needed people to get involved over summer, especially with so much building work to complete. "We need people with design and building skills to help build a chicken coup, all-accessible raised garden beds and other garden structures.
"We also need more people with 'green thumbs', especially anyone excited to research and plan a permaculture food forest and an edible indigenous food garden."
Peninsula Specialist College students joined volunteers at Dromana Community Garden every Wednesday over Term 1 and, together, they landscaped a large area for an orchard, garden bed and front verge.
TAFE VET horticulture students have been working every Friday morning for three terms and have achieved a lot, Ms Blair said.
Planted trees and shrubs include 20 heritage variety apple trees, donated by The Briars heritage kitchen garden, as well as an orange tree, two chestnuts, 12 hazelnuts, red currants, raspberries, indigenous plants along the front verge, herb/vegetable garden, including garlic, shallots, culinary herbs and broad beans.
Trees planted in September include two mulberries, 12 almond, apricot, two walnut, two lemon, two olive and a lime tree.
Ms Blair said she appreciated the help of Chisholm high school students, Peninsula Specialist College students and the regular working bee participant.
First published in the Southern Peninsula News – 25 October 2016