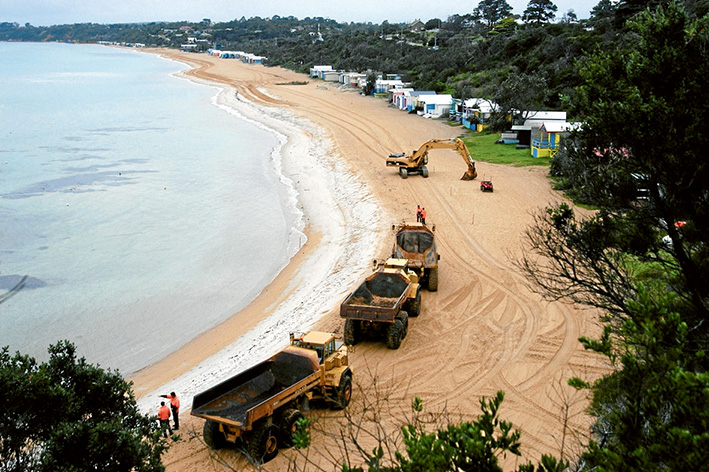 FENCES, trimming trees and erecting new warning signs are seen as the solution to crowd control at the Pillars diving and swimming spot on the cliffs at Mt Martha.
Mornington Peninsula Shire has teamed up with the state government to spend $50,000 to lessen risks faced by the hundreds of mainly young people who flock to perch on the cliff faces on any sunny day.
Police and shire rangers last summer booked hundreds of illegally parked cars on the Esplanade and surrounding streets, but the result has done little to counter the appeal of the Pillars.
The scenic spot – once known only to "locals" – has its own Facebook page and any news or photos portraying activities are instantly shared on social media.
Last month the shire also introduced an alcohol ban to control "inappropriate behaviours" in and around the Pillars.
The ban extends several blocks inland, effectively making it illegal for anyone to have a drink outside of their own property.
Last week the state government ($30,000) and the shire ($20,000) announced new speed signs, "vegetation management and minor fencing" along the Esplanade near the entrance to the Pillars.
The money will also go towards a management plan for the Pillars in conjunction with the Department of Environment, Land, Water and Planning, VicRoads, Victoria Police and Ambulance Victoria.
The government ($38,500) and shire ($16,500) are also commissioning a coastal study of Mt Martha North beach.
The money has come to the shire through the state government's Coastal Environments Public Access and Risk Program.
At Mt Martha North, erosion has taken its toll of the foreshore and cliffs, with sand being swept from the beach, revealing clay and rocks.
Access steps have been demolished and cliffs, vegetation and bathing boxes undermined.
The study will include the foreshore from Helena St in the north to Balcombe estuary in the south.
Earlier studies have resulted in recommendations for thousands of tonnes of sand to be trucked onto the beach from Mt Martha South and sand quarries in South Gippsland.
The sand appears to gradually reduce in depth over the following few years, with storms regularly battering the cliffs and bathing boxes.
Officially, this latest study aims to provide an understanding of the natural processes of this section of foreshore, as well as provide information to outline progressive management and ensure public safety and preservation of biodiversity.