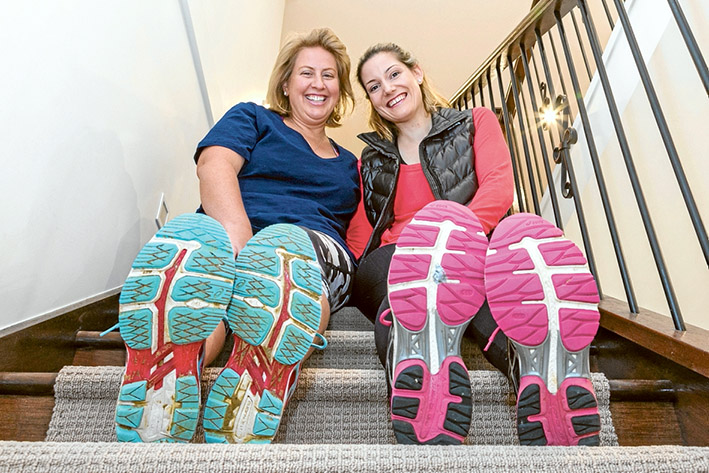 A GROUP of friends from Frankston and the Mornington Peninsula are discovering the beauty and serenity of some of the Mornington Peninsula's best-kept secrets while they train for the upcoming Wild Women on Top 'Melbourne Coastrek' walk.
Frankston South woman Sarah Watson is one of 12 friends who have been enjoying parts of the peninsula they never knew existed while training for the 60km charity walk, in between dodging Tiger snakes, brushing past kangaroos and echidnas, and marvelling at the beauty of the coastline.
"We've been doing walks around Cape Schanck and Point Nepean and without doubt one of the best things about training is the incredible scenery we see," she said.
Ms Watson said most of the group's participants were mothers, who were enjoying the opportunity of bringing their children with them to enjoy the scenery and discover the more remote parts of "our own backyard".
"It's amazing just how pretty the peninsula is, we've been really enjoying looking at some magnificent parts we didn't really know existed."
The women began fundraising for the 30km and 60km charity event months ago, kicking it off with a trivia night in June that raised $6500, all of which goes to the Fred Hollows Foundation to restore the eyesight of underprivileged people world wide.
The women, divided into three teams, had a target when they started, but have already surpassed that thanks to the trivia night and fundraising on World Sight Day in October, and are hoping to keep collecting until the day before the walk.
The Coastrek walk, from Cape Schanck to Point Nepean, will be held on 18 November.
Donations can be made at melbourne.coastrek.com.au or by calling 02 8039 3580.
First published in the Southern Peninsula News – 25 October 2016