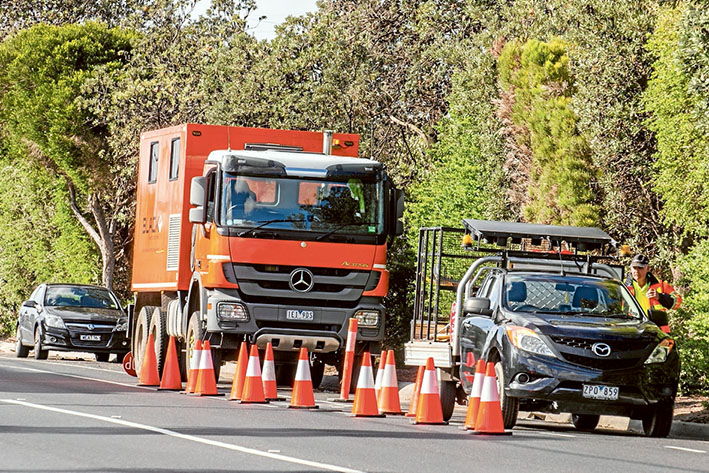 WORK is being done along the Frankston line to prepare for the removal of eight level crossings between Cheltenham and Frankston.
Geotechnical investigations will be conducted until the end of the year so work crews will remain a familiar sight even before the larger scale separation of road from rail at Balcombe Rd (Mentone), Charman Rd (Cheltenham), Edithvale Rd (Edithvale), Eel Race Rd (Carrum), Seaford Rd (Seaford), Skye/Overton Rd (Frankston), Station St (Bonbeach), Station St (Carrum) starting next year.
The Level Crossing Removal Authority (LXRA) says more than 130 boreholes, about 100 millimetres in diameter, are being drilled to a depth of 40 metres to analyse soil and rock types and ground water levels at each site.
"Geotechnical investigations provide valuable information about ground conditions in and around the dangerous and congested level crossings we are removing on the Frankston rail line," project director Adam Maguire said.
"Geotechnical information, together with feedback from local residents, businesses and traders, will inform the design of the projects in each location and how they will be built."
The LXRA, a state government body, said the investigation results will be published and be part of design options at each level crossing to be removed on the Frankston line.
A 'rail trench' and 'rail bridge' are options for level crossings at Seaford, Bonbeach, Edithvale, Mentone and Cheltenham.
A rail bridge may be built at a new crossing at McLeod Rd in Carrum and the Station St crossing could be shut and a new rail bridge built at Eel Race Rd.
A new 'road connection' at Station St over the Patterson River is also being looked at as an option.
The state government says a trench cannot be dug at Carrum due to nearby Patterson River.
The government says there is no option at Skye Rd in Frankston – rail over road must be built due to an overland flood plain.
Anti-sky rail protesters have dubbed any form of elevated rail "rollercoaster" rail and say the skyline of bayside suburbs will be marred by any elevated section of the line and raised rail is only being considered since it is less expensive.
Frankston and Kingston councillors voted to oppose any form of elevated rail along the rail line before going into caretaker mode before council elections to elect councillors on 22 October.
The LXRA is still seeking feedback before 30 October on options released publicly earlier this year.
The final decision on how each level crossing will be removed
See your.levelcrossings.vic.gov.au or call 1800 762 667 to give feedback.
First published in the Southern Peninsula News – 25 October 2016