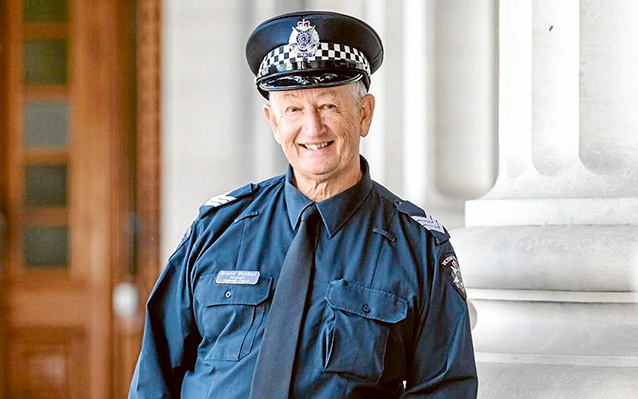 VICTORIA'S longest serving police officers were honoured at a special morning tea at Parliament House last week.
Police Minister Lisa Neville and Chief Commissioner Graham Ashton hosted the event in Queen's Hall – where they thanked the officers for their dedication and service in keeping the community safe.
Over their time the officers have witnessed changes in crime fighting techniques, including the introduction of random breath testing, drug testing and DNA profiling. It's a whole new world.
Among the 50 police honoured were Highway Patrol Sergeant Bruce Buchan, who has served at – among others stations – Frankston and the Mornington Peninsula Traffic Operations Group.
Sergeant Buchan was celebrating 40 years to the day since joining the force, making him one of 242 officers to have served more than 40 years.
"It is a bit of a mystery why I wanted to join," Sergeant Buchan said last week.  "A work colleague went to the same high school as I did and he told me that he knew I was going to be a copper as I was always reading Police Life magazines in the school library.  The problem is I don't remember doing this.
"I do recall that, when I attended the Dandenong police station for an interview, I was asked by the senior sergeant why I wanted to join and I replied that I wanted to help people. That's what I saw the role of the police to be.
"So, when I was accepted into the force I had been working as a legal clerk in the Melbourne and Metropolitan Board of Works in Lt Collins St. That had been my first job and, although it was a good start, I couldn't see myself staying there.
"I left there on 15 October 1976, had the weekend off and began training at the Police Academy on 18 October. Training lasted five months and, unless you had exceptional circumstances, you had to live in there.
"In those days you graduated on the Friday and began three months' duties at a training station, which for me was the Elsternwick Police Station. It wasn't an exciting police station and, after my time there I, like all the others, ended up at the Russell Street Police Station where you seemed to be in a holding pattern.   
"I remained there until early 1978, learning the ropes, performing stints at the City Watch House, Parks and Gardens locking up drunks, Flinders Lane Police Station and East Melbourne Police Station.
"As I wanted to work closer to home, I managed to transfer to the old Moorabbin Police Station. That was a good little station with a good boss and I then transferred to Frankston Police Station where my learning curve really kicked off.
"Frankston has always been a busy place and you learnt a lot. I got there not long after the Frankston Riots in May 1979.
"In those days you seemed to be in court every week giving evidence for the drunks you had arrested and every court case you were involved in had the potential to be a contested hearing. You got to know your local magistrates quite well and they you, in fact, if you were a fair police member, the magistrate would seem to note this. Your reputation before the courts was very important.
"After three years I decided that I needed further experiences and transferred to the Cheltenham Crime Cars. It was mainly plain clothes' duties and life consisted of going on raids, taking out warrants and arresting crooks, but it was a lot of fun.
"In 1985 I transferred back to Frankston and worked there for about 18 months before transferring to the Traffic Operations Group at St Kilda, then to the Traffic Operations Group at Frankston. I really enjoyed those duties but it was time to take promotion and I was promoted to sergeant in 1990 at the Transit Police. That was an interesting place and I remained there for four years. I was lucky to investigate a high-profile crook while there and ended up extraditing him to Victoria from NSW.   
"In 1994 I managed to transfer to the new Moorabbin Police Station as a supervisor until I returned to the TOG in 95 as a supervising Sgt.  Been there ever since and have seen the name change from TOG to TMU to HWP.
"Of the highlights, the entire job has been an eye opener for me, and it afforded me a lot of confidence … I used to hate public speaking, but now I can talk the paint off the walls.
"I think my involvement and interest in road safety has been the most satisfying of all the policing duties I have performed. It seemed at the time to be one of the only jobs within Victoria Police that you could make a real difference to the community's driving attitudes."    
Southern Metro Region Acting Assistant Commissioner Glenn Weir said he was happy to "provide some words around Sergeant Buchan to recognise at local level his 40th year of service to the Victorian Community".
"Bruce has been a long serving member of the Highway Patrol in the Frankston and Mornington Peninsula area over many years. He is a passionate advocate for road safety who really cares about the community and his staff."