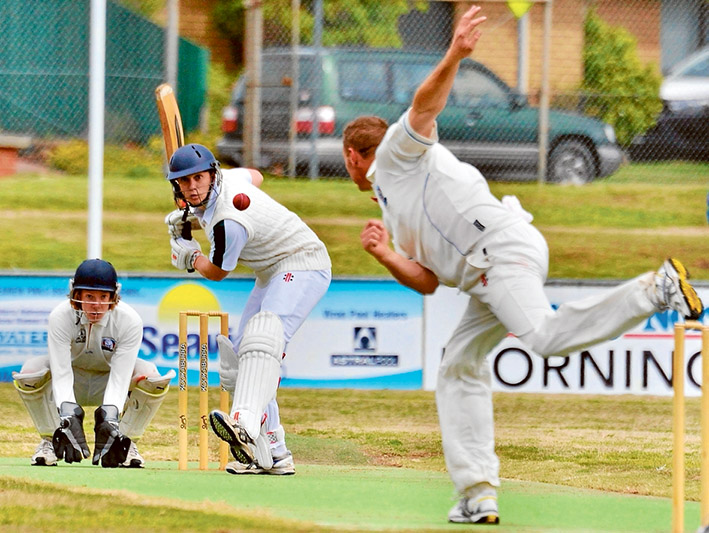 RAIN was the only winner in MPCA cricket on Saturday.
There was some cricket played throughout the competition and there were some results, however most games ended in draws.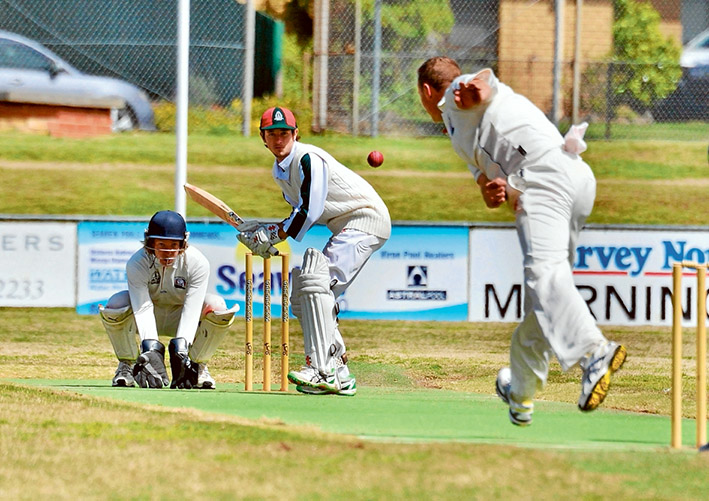 Provincial
In Provincial cricket, all matches ended in draws despite a few overs being bowled throughout the afternoon.
Langwarrin got out in the middle against Baxter, chasing down 256 for victory.
Play was ended with the home side 4/93, Simon McEvoy top scoring for the Kangas with 42.
Dale Irving picked up a couple of wickets for Baxter while Chris Brittain and Justin Bridgeman snagged one each.
The only other play in Provincial cricket was at Alexandra Park.
Chasing 193 for victory, Pines resumed in some real trouble at 3/8.
Harley Peace-Stirling offered some resistance when play resumed and score 33.
Stumps were finally drawn though with the Piners 6/63 off 28.5 overs.
Leigh Lambert was superb with the ball for Mornington with 3/23 off eight overs, while Adrian Dale picked up 2/6 off 4.5 overs and Matt Foon jagged 1/8 off eight overs.
In other results, Mt Eliza (9/235) drew with Crib Point, Sorrento (8/270) drew with Somerville, Long Island (156) drew with Pearcedale (0/17) and Peninsula Old Boys (0/71) drew with Moorooduc (139).
District
There was no play in District cricket, although there were to two results on the first day of play.
Red Hill picked up the valuable 12 points against Rye after beating them on first innings last week.
The Demons were bowled out for 32 and 61 on the opening day while Red Hill blasted a quick fire 7/185 before declaring.
Glen Collett was at his best for the Hillmen with 5/16 from 11 overs while Simon Dart claimed 5/13 from 7.4 overs.
Felix McKillop top scored with 76 and Brent Martin hit 46 for the Hillmen.
Collett picked up 2/12 in the second innings and Lincoln Toy claimed 2/6.
Mt Martha also got the chocolates against Boneo.
The Pandas were sent in by the home side on the first day and were bowled out for just 44 in 31.3 overs – 'extras' was the highest score with nine.
Rhys Whitling was the pick of the Reds' bowlers with 5/11 from eight overs while Kyle Bendle helped himself to 3/11 of 6.3 overs.
In reply, the Reds declared at 8/140, chasing quick runs. Mitch Darville top scored for the home side with 45 while Sean Spencer and Leigh Janssen picked up 4/45 and 4/33 respectively for Boneo with the ball.
At stumps, Boneo was 2/41 in its second innings, still 55 runs behind. There was no play on day two.
In other results, Baden Powell (217) drew with Seaford (0/40), Main Ridge and Rosebud drew without any play, Heatherhill (2/91) drew with Seaford Tigers (175) and Flinders (9/229) drew with Delacombe Park.
Sub District
Ballam Park picked up a valuable 12 points in Sub District cricket, the only team to get a result in the grade.
Skye batted first and was bowled out for 67 on the first day while Ballam Park responded with 5/175 before declaring. Aaron Barrett scored 35 and Dave Roach 43 while skipper Stuart Plunkett top scored with 55 to go with his 6/30 with the ball.
Skye batted for 39 overs in the second innings and was in real trouble at 6/63 before rain got hold of the match.
In other matches Carrum (200) drew with Dromana, Carrum Downs (2/57) drew with Balnarring (218), Hastings (164) escaped with a draw against Tootgarook (3/120) and Frankston YCW (2/6) drew with Tyabb (181).