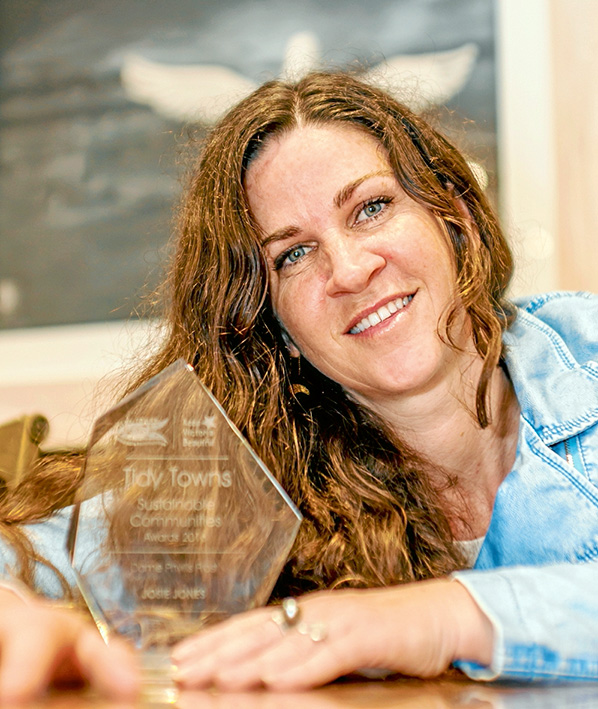 A RYE woman has won the Dame Phyllis Frost Award for her project The One Tonne Challenge, which focuses on "giving back to the ocean by encouraging people to pick up rubbish at our beaches".
Josie Jones collected the award at Horsham, Saturday 15 October, in the annual Tidy Towns competition in which three Mornington Peninsula townships – Mornington, Hastings and Crib Point – were finalists in their categories.
Horsham won the 48th Tidy Town Awards which are run by the Keep Australia Beautiful Council. Media personality Mark Mitchell was master of ceremonies.
Ms Jones has a strong passion for the marine environment and her campaigns – The One Tonne Challenge, If you see it pick it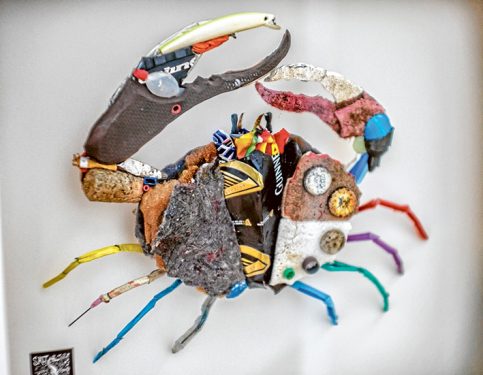 up and I'm really a mermaid – have encouraged people to remove litter from beaches.
A catalyst to her beach-cleaning work many years ago was inadvertently watching a woman bury a nappy on a beach in Tahiti. She dug it up and disposed of it properly, but the image remained and the passion for the cause was roused.
The graphic designer uses her skills as an artist to create clean-up poster campaigns that, hopefully, get people onside. Sales from posters each year aid dolphin research as well as research and study into the southern right whale.
Ms Jones has also visited the whale protection ship Sea Shepherd and pushed local rubbish and recycling campaigns, including at Rye Primary School.
"A lot of schools don't even have recycling programs," she said.
Beaches along both Port Phillip and Western Port bays – where she began collecting rubbish 10 years ago – are a "soup" of plastics and litter. Her most frequent finds are cigarette butts, lollypop sticks, fast-food wrappers and plastic pieces of all sorts. Little red plastics soy caps are a bugbear.
On her daily walks between the White Cliffs hill and Capel Sound she picks up on an average three kilograms of rubbish.
She prefers to display her work through rubbish collection so that no-one can deny its existence, and she doesn't ask anyone for help. "I allow my actions to be an example to others," she said.
"Word of mouth gives leverage to the I'm really a mermaid campaign.
"I am passionate about changing the views and habits of people about effective waste management."
Ms Jones said winning the award was an "awesome achievement for the area".
"Currently the trophy is being shared: it spent two days at Captains of Rye, for whom I am a designer; it is now at Freaky Tiki and then it will go to A Mini Kitchen, which sells posters for the campaign."
Six other peninsula initiatives were recognised in the Sustainable Community Awards: Mornington Community Information and Support Centre for its emergency relief centre which assists those experiencing financial crisis; Crib Point Community for the rubbish clean up after the bush fires, and Mornington Peninsula Shire and Manton and Stony Creek Landcare Group for transforming the Red Hill Station Reserve into a useable community space.
Highly Commended Awards went to Mornington Peninsula Shire and Mt Eliza Placemaking Group for the Mt Eliza Community Safety Signage project. Western Port (Hastings) community volunteers also received an award for their visitor information centre.
Award for bringing food to the table

MORNINGTON Community Information & Support Centre manager Lisa Elliott was thrilled her group was honoured in the Tidy Town awards.

It won praise for its efforts in providing food for low-income earners. 

"The award represents our many programs aimed at alleviating financial stress by providing free healthy food," she said. 

"Much of this food is sourced through Secondbite and some is cooked for our meals program. The fresh food program provides a free parcel of food to around 15,000 people each year. 

"The meals are assisting a small group of low-income and isolated residents with healthy sustenance, as well as a warm and friendly evening out," she said.

She thanked the shire for the "amazing support we receive in providing our most vulnerable residents with continuous support over 36 years". 

"This support comes in the form of professional advice from many different sources, a generous annual financial grant and providing us with infrastructure to house our main business of support, information and guidance to visitors to the peninsula," she said. "The Masonic Lodge has welcomed our meals program and the work we are doing and allows us to use their kitchen and main hall twice a week," Ms Elliott said. 

"St Marks Uniting Church has housed our Free Fresh Food Program for the past four years and the minister John Haig and his congregation support us financially with a supply of Woolworth's gift cards each year." 

This program supports other community organisations, including Mornington Park Primary School's breakfast, hot lunch and cooking classes. St Vincent de Paul volunteers work closely with the group.

Supporters help by donating to the food pantry, op-shop and winter coat appeal. 

"The community action involved in providing so much support to low-income earners has been awarded on a state level and recognises a whole community approach to supporting our most vulnerable," Ms Elliott said.   

"It would be difficult to quantify the incredible ways this community supports its own, with 140 volunteers over many programs."
First published in the Southern Peninsula News – 25 October 2016