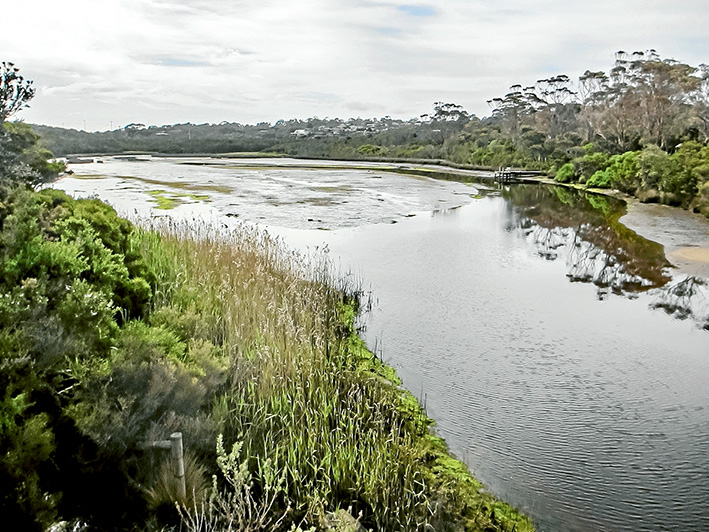 AFTER three years of negotiations, the environment group BERG Mt Martha has persuaded Mornington Peninsula Shire to spend $100,000 to reduce sediment entering Balcombe Estuary.
BERG Mt Martha president Graham told last week's annual meeting that "the problem of sediment clogging the creek and estuary needs to be addressed now".
"We are grateful to council realising the severity of the problem and coming to the party to solve it."
BERG Mt Martha says the level of sedimentation is changing the estuarine environment resulting in loss of habitat and food sources for aquatic animals and birdlife.
"The food source for black swans, such as aquatic plants, appears to have disappeared … and so have the swans," a brochure published by the group states.
Mr Hubbard says the main cause of increased sedimentation is the erosion of unmade roads and private driveways bordering the creek and estuary.
"Regular scouring of road surfaces and swale drains sends crushed rock and other material down stormwater drain inlets into the creek," he said.
"Heavier, coarser material is deposited at or below the stormwater outlet, impeding the natural flow of Balcombe Creek.
"Finer particles are swept down to the estuary where water salinity causes them to settle and build up on the estuary floor."
The group has identified regular scouring in Augusta, Ailsa and Byron streets.
The group has identified other causes of sedimentation as being:
Destruction of creek bed and banks by animals such as upstream stock and off-lead dogs in the reserves;
Increased erosion at the head of Hopetoun Creek, a tributary of Balcombe Creek;
Restrictions to creek flows caused by roads crossing the creek, such as Craigie, Bentons and Tyabb roads and Moorooduc Highway.
"Silt is causing the estuary to become shallower and is destroying once-thriving seagrass and saline herb fields," Mr Hubbard said.
"Water quality in both the sea and estuary has been reduced, and there is an increased likelihood of harmful pollutants entering the creek as it flows past two old landfill sites at Mt Eliza and opposite The Briars."
The group wants a long-term strategy developed for the creek and estuary to preserve its ecology.
Mr Hubbard said a pointer to BERG Mt Martha's growing profile is the promise made by an anonymous donor to match dollar for dollar all donations for on-ground work up to $50,000.
Inspired by the challenge, two BERG Mt Martha members, David and Bronwyn Street, have given the group $10,000 which will trigger $10,000 in matching funding.
For further information call Graham Hubbard on 0408 740 270.