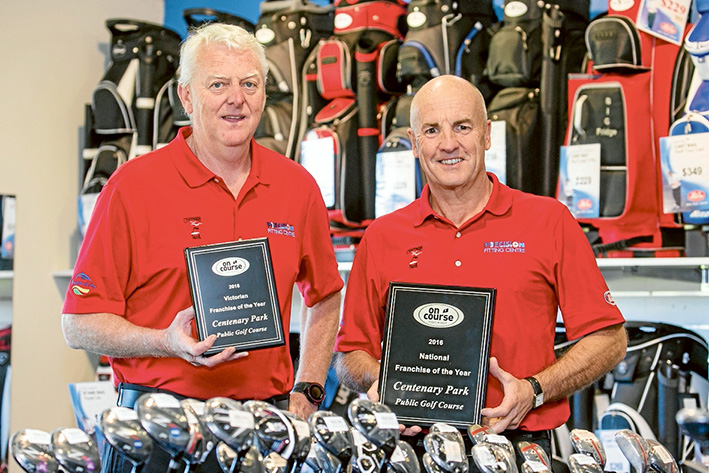 CENTENARY Park Public Golf Course manager D&S Golf was recently awarded the inaugural On Course Golf National Franchise of the Year.
It was presented to D&S Golf at the On Course National Conference on the Gold Coast last week.
All On Course franchise golf businesses across Australia were evaluated against a stringent criterion of business excellence including branding, store presentation, marketing and training. In a highly competitive field, D&S Golf came out a clear winner.
D&S Golf Director and PGA Professional Steve Montgomerie, and business partner and PGA Professional Warren Young, were delighted to win the award. "Being adjudged as the National Franchise of the Year is testament to our efforts to present all users at Centenary Park with an enjoyable golfing experience," Mr Montgomerie said.
"We constantly strive to present the store in its optimum condition and provide golfers with a broad range of golf merchandise at competitive prices."
Mr Young added: "To be the winners of this award is recognition of a huge team effort. All staff contribute to the successful operation of the venue, and aim to set the bar high.
"Our state of the art indoor teaching and club fitting facility has strengthened our position as the No. 1 golf education centre on the Mornington Peninsula."
D & S Golf have been the contract managers at Centenary Park for the past 22 years and have been instrumental in the course becoming one of Victoria's  best council owned public golf courses.
On Course Golf is Australia's largest group of PGA Golf Professionals with 212 stores nationally. Through their aggregated buying they are able to negotiate better deals with a broad array of suppliers for their members and this, in turn, is passed onto the golfing consumer.
D&S Golf has been a member of the On Course group for nearly 25 years.
For further information please contact Steve Montgomerie or Warren Young at the Centenary Park Public Golf Course on 9789 1480.