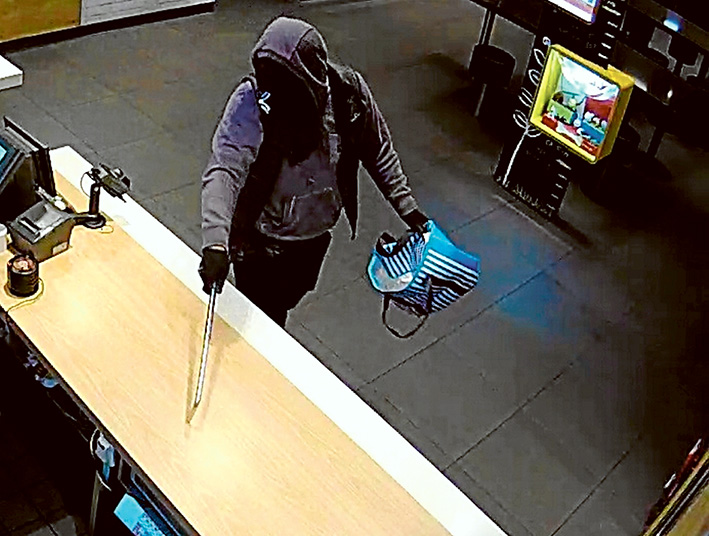 POLICE are investigating links between armed robberies on service stations in Mornington and Chelsea Heights and a McDonald's restaurant in Carrum Downs this week.
In the three raids, two men of African appearance wearing balaclavas, dark-coloured hoodies and one carrying a tyre lever, smashed their way into the businesses in the early hours while terrified staff members looked on.
In one robbery a man was bashed.
The men, aged in their 20s, ransacked cigarette cupboards and stole cash from tills while making violent threats. Their getaway car – a silver Holden Commodore sedan – was stolen from Aspendale earlier in the week.
In the Mornington raid, two men used a hammer to smash their way through a glass door into the Caltex service station on Nepean Hwy, 4.30am, Thursday (27 October). It is believed they had earlier committed a drive-by theft of petrol from the Coles Express servo, opposite the Mornington on Tanti hotel, on their way to the Caltex station.
Mornington Peninsula CIU Senior Sergeant John Coburn said there were "definite links" in the three raids.
In the Mornington robbery, the men then used the hammer to smash through the console window to steal the cash register and cigarettes, while the lone attendant locked himself in the office. The value of the haul is unknown.
Police chased the getaway car north along Nepean Hwy towards Frankston but called off the chase when it was deemed too dangerous. The car was later found partially burnt out in Narre Warren.
The three cases are now being handled by the Southern Metro Crime Unit, based in Dandenong.
In the Chelsea Heights and Carrum Downs robberies, both in the early hours of Tuesday 25 October, two men wearing balaclavas smashed their way into the Wells Rd, Chelsea Heights servo at 4am using a crow bar.
They forced a staff member to open the console door and stole cigarettes and cash before fleeing when a taxi pulled up outside. Police believe they were driven off by a third person. No one was injured in that raid.
The same armed men are then believed to have robbed the McDonald's restaurant in Hall Rd, Carrum Downs, 50 minutes later. They used a tyre lever to strike the attendant to the head before stealing cash from several registers and fleeing.
Anyone with information is urged to call Crime Stoppers 1800 333 000.