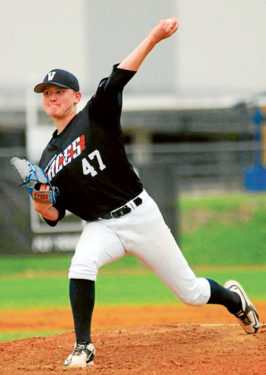 BASEBALLER Jayson Arthur had the time of his life playing in the Senior League World Series in Bangor, Maine, US.
The Bittern player, 16, who plays for Sandringham Royals in summer and Dandenong Angels in winter, was a member of the Southern Mariner's Baseball Charter which won through regional tournaments in Geelong, then the Senior League Nationals at Lismore, on their way to the "big stage" in the US.
"We went through that tournament undefeated and I led the batting average with 825 and was really happy with the way I played," said Jayson, who attends Dromana Secondary College.
After that it was on to the Pacific Senior League Baseball Tournament in the Philippines to determine who would go on to America.
"We went from being Team Mariners to Team Australia and were on a hot streak, with everyone performing well and doing their job," he said.
"We kept that momentum all the way through, winning games 30-1 and 17-4 to take out the Asia pacific senior league baseball tournament undefeated, giving us our ticket to the big stage.
"From our first game to the last game in Asia Pacific, we had a win-to-loss ratio of 17-0: it was insane and it felt like we could do anything."
The left handed pitcher and first baseman said that, despite the onset of nerves and 33 hours of travelling, the team did well losing only one game to reach the championship game against the Centrals team of Chicago – the only team to beat them in the preliminaries.
"When we arrived at the fields it was surreal, with the dirt on the infield amazing, the pitcher's mound Heaven and the outfield grass felt like we were walking on air," he recalled.
"However, we didn't get off to a great start which upset the tone for our team. Later on we started to build momentum, with runners on second and third with no one out. Then, a thunder storm hit, which destroyed our comeback as we came back out feeling flat. We lost that game 7-2 which made Chicago the Senior League Champions of the World.
"It was pretty hard going all that way and losing but, at the end of the day, we worked hard and accomplished what we wanted to do: play in the Senior League World Series."
Parents Peter and Theresa, and sisters Sarah and Amy, are proud of their boy whose dream is to attend a college in America and further his baseball and, hopefully, one day play in major league baseball.