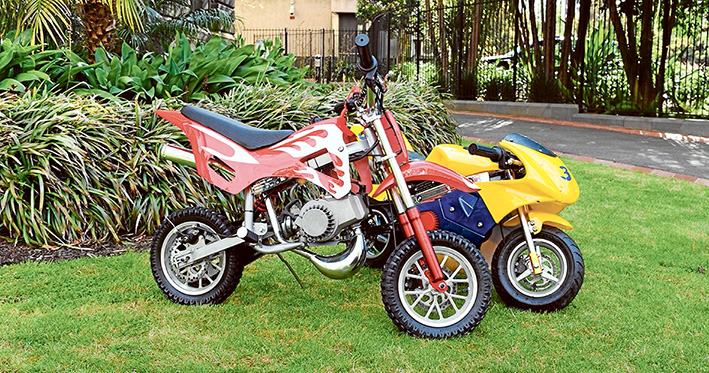 TOUGH new legislation introduced into state parliament last week to get so-called "monkey bikes" off the streets gives police the power to seize and impound the miniature bikes and fine owners up to $3109.
If police find a monkey bike and no rider comes forward to claim it, the bike will be impounded and crushed after three months. Riders found not to have a valid motorcycle licence will be charged with unlicensed driving.
Frankston Labor MP Paul Edbrooke said the legislation came about after monkey bikes were involved in an incident that claimed the life of Carrum Downs mother-of-two Andrea Lehane, who died after being struck in a shopping centre car park late last year.
Mr Edbrooke said he and Carrum MP Soya Kilkenny "lobbied very hard to ensure that police are armed with the appropriate powers to ensure our community is safe from the obvious risk that illegal motorcycles pose".
Mr Edbrooke described the legislation as "a win for our community".
Ms Kilkenny ran a community forum to hear concerns about the bikes soon after Mrs Lehane's death.
"I said that we were going to take steps, including working with police, and we are doing just that".
"These new laws will never bring Andrea back to her family. But giving police the powers to impound and destroy these bikes will help keep our communities safe and, hopefully, prevent any more unnecessary and utterly tragic accidents and deaths in our local communities."
The ban on monkey bikes was welcomed by senior Frankston police.
"Given the terrible tragedy that occurred in Carrum Downs last year, and the on-going nuisance and criminal behaviour exhibited by riders of these types of vehicles, local police welcome any extra tool to rid them from our streets," Southern Metro Region Superintendent Glenn Weir said.
Previously, police only had the power to fine offenders for riding an unregistered vehicle, which in some cases may extend to a fine for speeding or reckless driving.
Monkey bikes can still be used on private property, such as a gated farm. Some other types of miniature motorcycles that meet statewide standards will remain legal under the new definition of a "miniaturised motorcycle" in road safety laws.
"We're not going to stand by and watch another person hurt on our roads by these dangerous bikes," Premier Daniel Andrews said. "We're protecting road users and pedestrians. Now, Victoria Police will have the power to crack down on riders who are caught doing the wrong thing."