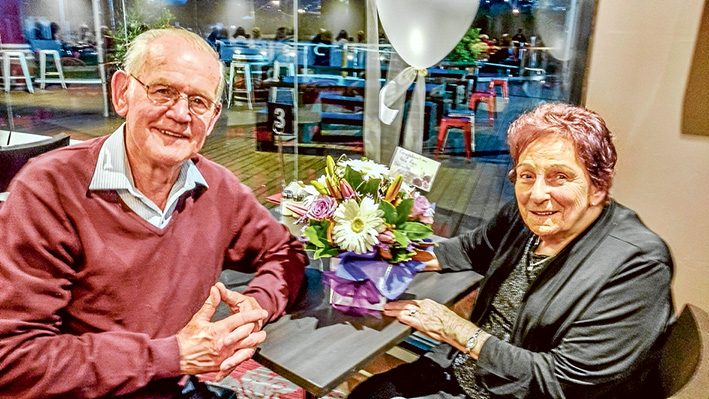 ROSEBUD residents Margaret and Mike Ringham are aware that fate moves in mysterious and wonderful ways.
The couple celebrated their 60th wedding anniversary at Trofeo Estate, Dromana, with their family and friends last week.
But things would have turned out differently if British-born Mike, who was walking to work in a typical cold, dank London pea-souper in the early 1950s – with the foggy air invading his lungs – hadn't thought that there had to be a better way of spending his life.
Returning from lunch, he impulsively turned into the office of P&O Shipping Company and applied for a job at sea and, eventually, setting sail aboard the Himalaya as the chef's writer, which entailed writing menus, ordering stores, and writing out chits for other crewman.
"We ate first class," he says. "Nothing but the best."
Meanwhile, Margaret, who lived at Stawell, in Western Victoria, was invited to join a cruise to Auckland by a girlfriend. "I was quite surprised when my boss agreed to let me go as I would be away during the busy Christmas period," she said.
Both were unaware they had made life-changing decisions.
Arriving back in Sydney, Margaret was sunbaking on the deck with friends when a friend of Mike's invited them out for a day on Sydney Harbour.
"We certainly had a wonderful day cruising around Sydney Harbour and part of the Nepean River, but we almost didn't have a second date because, when we were swimming, somebody called out that we were in a spot where sharks often bred," Margaret said.
"I was in such a hurry to get back in the boat that I climbed over Mike and pushed him under the water."
They had a couple more dates when the ship arrived back in Melbourne and agreed to write to each other. When Mike got back to London, he realised that he was in love with Margaret and proposed by telegram.
"I was quite surprised that she agreed so quickly because, looking back, we didn't really know each other. I knew that I wanted us to be together and the feeling was so strong that I was prepared to give up everything I knew to be with her."
Whenever the Himalaya visited Melbourne they managed fleeting visits and Mike finally arrived permanently in May 1956. They were married at Holy Trinity Church, Stawell, and then lived at Box Hill and Essendon.
"Margaret has been a wonderful companion and a good mother, raising our two daughters, Joanne and Susan, as well as running the house.  She was also the gardener as I had no idea," Mike said.
Mike moved from the Union Steamship Company to the former Ansett-ANA as a booking clerk and stayed there for 37 years, finishing as a schedule planning manager.
In 1987, Margaret was diagnosed with breast cancer and, after a stroke in 1997, found she had to slow down a bit, which was not in her make-up. In 2010, they sold their home of nearly 50 years and settled in Rosebud.
Sixty years later, they are still grateful that fate played its hand all those years ago.
First published in the Southern Peninsula News – 8 November 2016