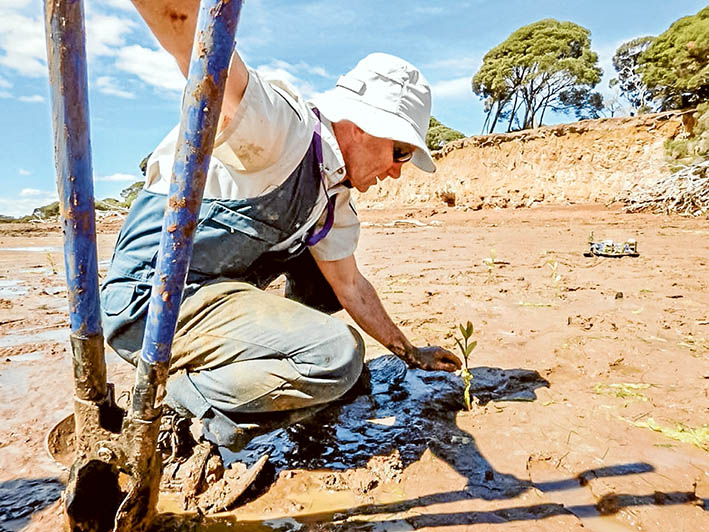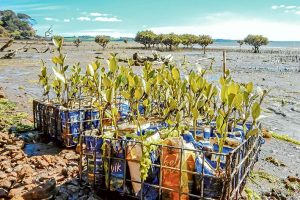 MANGROVES are part of a trial to stop coastal erosion in Western Port.
About 500 seedlings have been planted in a trial on the foreshore of Churchill Island Marine National Park off Phillip Island.
The indigenous plants, widespread in some areas, are known to be good for a healthy marine environment. Their dense roots also help bind and build soils, and can slow the speed and destructive nature of the waves.
Parks Victoria, in partnership with the Friends of Scenic Estate Reserve, has planted the specially propagated mangrove seedlings in an effort to reduce wave erosion of the cliffs.
Ranger Thierry Rolland said the seedlings were sourced from the Advance Community College Nursery at Mornington, which has previous experience with mangrove seeds and has provided seedlings to the Western Port Seagrass Partnership.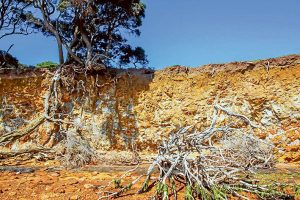 To increase the seedling's tolerance to salty water, Mr Rowland kept them in troughs filled with a mixture of fresh and sea water. Over several weeks he gradually increased the salinity level in the troughs until the seedlings were living in 100 per cent sea water.
This is not the first attempt at planting mangrove seedlings in Western Port, but each site is different and the planting technique had to be adapted accordingly, he said.
"Planting mangroves is a learning process, there's no right or wrong way of doing it, but so far things are looking promising. We've planted these seedlings in spring which is quite early compared with other projects, and they've only got a shallow sediment layer on top of a basalt shelf rather than deep mud."
The seedlings' growth will be closely monitored so techniques can be fine-tuned for future planting sessions.
Mr Rolland said recent rough seas and strong winds would have done some damage and uprooted some of the seedlings, but most had managed to survive and were in "good shape".
"Mangroves aren't a fast-growing species, so it will be at least three-five years before they are large enough to be effective."
First published in the Southern Peninsula News – 8 November 2016