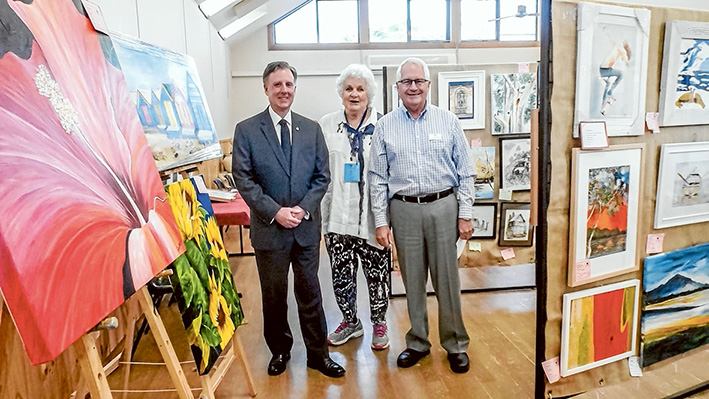 VISITORS to the U3A Mornington art and craft show at the Currawong Hall had a rare view of the creative work by the artists and Currawong Crafties group.
"We are delighted to present a wonderful selection of watercolour, oils and acrylic paintings, sculpture and beautiful pieces of craftwork from our beginner, intermediate and advanced classes," U3A art tutor Jan Oliver said at last week's opening.   
Artists and tutors from various classes showed off works: from watercolour to experimental media and paintings in the style of cubism, impressionism and others.
Opening the show, Mornington MP David Morris praised the group's high level of creativity and progress over the years.
"People can continue to be creative throughout their lives and it is wonderful to see the Currawong Hall transformed by such an excellent display of work," he said.
Mr Morris spoke about his early links with U3A Mornington when it had just 42 members and 10 courses.
U3A president Tom Jeavons said the organisation was now in its 25th year, had 1200 members and offered more than 200 courses.
The art show also included patchwork, quilt work, detailed needlepoint, knitting and embroidery.
Currawong Crafties tutor Jeanie Bridger talked about the support of the whole class for individual members' works and the team effort that goes into producing larger pieces of craftwork. These include quilts and an embroidered panel that illustrates historical scenes and significant events in the development of the Currawong land and farmhouse that was once part of the former Tanti estate.
Anyone wanting to enrol in a U3A course for next year can do this on Wednesday 7 December either online at u3amornington.com.au or by visiting the U3A office, 10am-noon, 5-17, Currawong St, Mornington, or by calling 5975 9773.