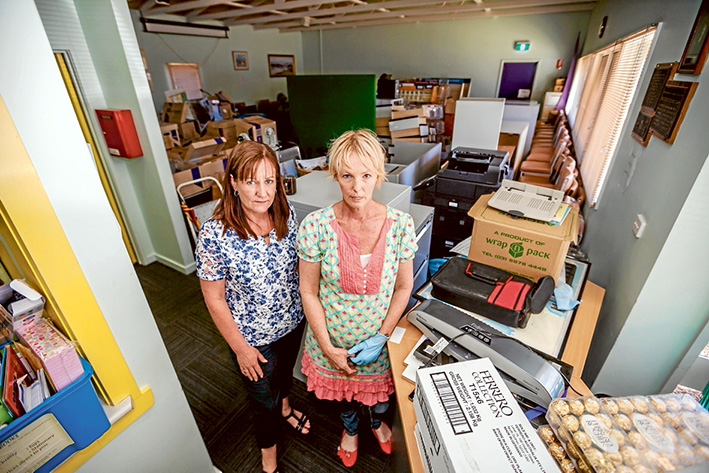 MORNINGTON Community Information & Support Centre staff got a smelly welcome to work on Tuesday morning.
A blocked South East Water pipe had flooded their 320 Main St office with sewerage water through a pipe in the toilets.
Manager Lisa Elliott said she arrived at work to "see a wave of dirty water drifting across the carpet".
"It was being pumped up through the drain in the bathroom like a fountain and swamped the centre in half an hour."
She said the sewerage water "destroyed" everything in the centre, with workman called in on Thursday to remove carpets and preparing the walls for painting. The office stank.
"It's pretty bad now but not nearly as bad as two days ago," Ms Elliott said.
Damage is estimated in the "thousands and thousands" of dollars. Phone and email services were also out of order and may take days to get up and running.
But Ms Elliott's big worry was that yellow barrier tape across the front may deter needy clients from seeking crisis assistance.
"We normally help up to 20 people a day with emergency relief, short term case management, meals, fresh food, crisis funding, counselling, community directory, tax and legal advice, public transport and donations – and the busy Christmas season is just around the corner," she said.
"Even Centrelink sends people here who are in desperate need through domestic violence."
Ms Elliott said community organisations would be assisting clients through the "disaster" which is being repaired through a shire project management team.
Clients can seek support and advice from Mornington Community Contact Centre, 9-11 Albert St, Mornington; emergency food parcels: New Peninsula Baptist Church, Craigie Rd, Mt Martha and St Vincents de Paul shop Main St, Mornington, call 5976 4974, and tourism information: The Courthouse, beach end of Main St, Mornington.
"Our fresh food program at St Marks Uniting Church on Thursday mornings is still operating," Ms Elliott said. "And community meals are still available at The Masonic Lodge Mondays and Fridays."
Staff and volunteers are still operating limited services, including needle exchange, and emergency relief from the back meeting room.
"We hope those experiencing a crisis will not be put off by the construction teams and will persist in finding assistance."
Ms Elliott said the shire had been "very supportive".
"We thank them for their swift action to assist us during this very stressful time," she said.
Mornington Community Contact Centre is a community support centre which operates autonomously but is funded by grants from various sources, including the shire.