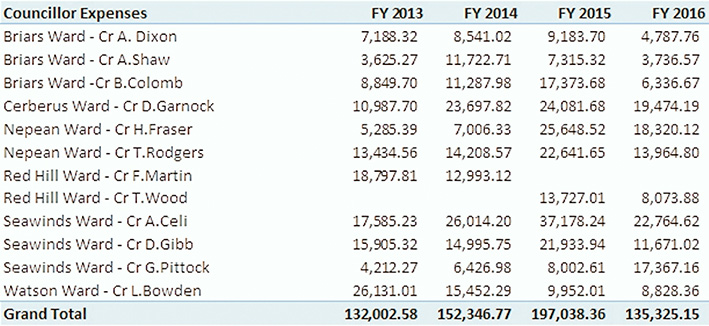 THE full extent of Mornington Peninsula Shire councillors' expenses during their 2012-16 term has finally been officially disclosed after months of stalling.
The shire's 11 former councillors, including three re-elected last month, racked up $616,712 on ratepayer-funded expenses over four years.
Neighbouring Frankston and Kingston councils – with nine councillors apiece – spent $205,329 and $101,807 respectively over the same period.
Those two councils, unlike the shire, published a breakdown of councillors' expenses in annual reports in each year of the previous four-year council term.
The expenses are separate to councillors' $28,907 yearly remuneration plus 9.5 per cent superannuation; $92,333 for the mayor over a 12-month mayoral term.
The shire only began publishing councillors' expenses in its annual report in 2014-15, the first financial year it was forced to make expenses public after a legislative change by the state government.
The News repeatedly asked council for the 2012-16 expenses figures in the lead up to council elections. The first request was made in July.
Shire media communications manager Mark Kestigian subsequently said council governance manager Joe Spiteri decided expenses figures could not be provided during a 20 September-22 October caretaker period before council elections.
Last week it was revealed about $480,000 worth of expenses figures spent over three years were listed in documents marked "confidential" given to councillors in March, four months before The News first asked for the expenses figures ("Shire's councillors are costly", The News 15/11/16).
At last Monday evening's first public meeting of the new council term, one of the three re-elected councillors – Cr Hugh Fraser – proposed a review of the councillors' expenses policy by February next year.
All councillors – including eight newly elected councillors – backed the motion.
Cr David Gill, previously a councillor at the Shire of Mornington before a Kennett government era amalgamation of councils in 1994, wanted to debate a new expenses policy at Monday evening's meeting but there was no support from fellow councillors for this suggestion.
He told The News he wanted to highlight the importance of urgently formulating a new expenses policy.
"Expenses have been a controversial issue," Cr Gill said. "I've been attending council meetings and I've been surprised they appear to be equivalent to unlimited expense claims … when you can claim expenses that go over the so-called limit that becomes, in my mind, basically unlimited.
"I was signalling I wouldn't want to be going along with the way expenses have been claimed in the past."
Cr Gill said he understands some people standing for council need financial assistance to carry out their duties but he believed the previous council expenses regime was "poorly handled".
"We need to review it," he said.
Cr Fraser did not return calls from The News.
First published in the Southern Peninsula News – 22 November 2016