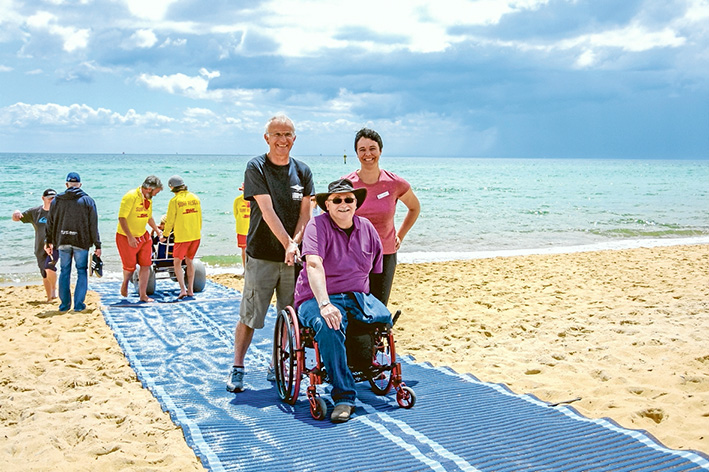 PULLING up at a foreshore car park and walking across the beach to the water's edge is as natural as putting up a beach umbrella and spreading out a towel.
But try enjoying those simple pleasures if you are in a wheelchair. Suddenly the beach becomes and obstacle rather than a pleasure.
Saturday 12 November is likely to become known among wheelchair-bound residents on the Mornington Peninsula as the day they were first able to cross Mt Martha beach.
They were able to confidently make their way to the water on plastic matting provided by Mornington Peninsula Shire in conjunction the Disabled Surfers Association Mornington Peninsula and Mt Martha Life Saving Club.
On hand to test the new surface were Mark Hopper, of Safety Beach, and Sean Corcoran, of Mt Martha.
The matting was laid out by lifesavers ahead of the public launch of the matting on Saturday 26 November.
The 50 metres of matting will be trialled over summer and into autumn with a view to making it available elsewhere on the peninsula.
The lifesaving club is also being provided with one of the DSAMP's six wide-tyred beach wheelchairs.
DSAMP secretary Bill Hallett said the wheelchairs (some bought with shire money) would be loaned out by the lifesaving clubs "for those who are a bit more adventurous and want to dip their toes in the water".
He said the DSAMP wanted all of its beach-friendly Sandcruiser wheelchairs to be made available to the public when not needed for the association's disabled surfing events.
Mr Hallett said the Mt Martha life saving club was "kicking off" a Starfish group, "the equivalent of their Nippers but for kids with a disability".
Virginia Richardson, the shire's MetroAccess officer, said the results of the Mt Martha trial could see matting provided at other peninsula beaches. She said the beach matting would be rolled out each weekend until 30 April.
The matting and the trial was a step towards "making more beaches on the peninsula accessible to everyone".
The beach accessible matting will be publicly launched at Mt Martha Life Saving Club at 12.30pm Saturday 26 November (Melway 144 J11).
Details: beachaccess.eventbrite.com.au