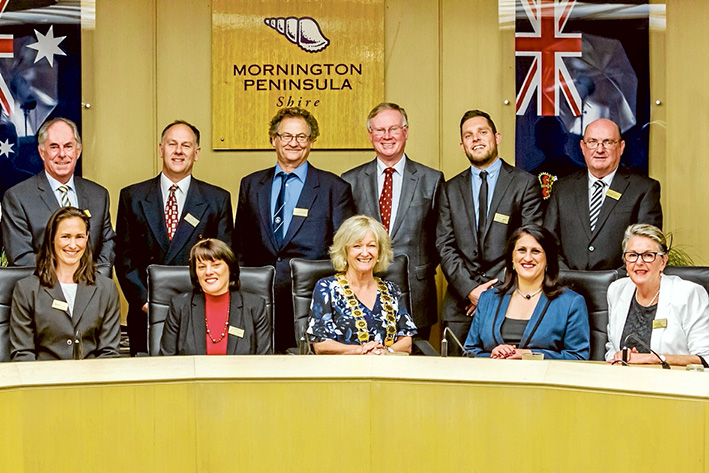 DEPARTING Mornington Peninsula Shire councillors Andrew Dixon, David Garnock, Graham Pittock, Tim Rodgers and Tim Wood have been given a seal of recognition for their service to the community after the mayor election last Monday.
All were keen to pass on words of wisdom to newly-elected councillors gleaned from their experiences as councillors.
Each of the five was full of praise for council officers who support councillors behind the scenes, but one ex-councillor sounded a note of caution.
Mr Rodgers had some words of advice for eight newly elected councillors, including seven first-timers: "You have been elected with an agenda [but] never forget council officers also have an agenda."
The ex-councillor also praised council officers' hard work and diligence.
Mr Garnock, a former naval captain at HMAS Cerberus, the only departing councillor who stood for re-election but lost out to Kate Roper in Cerberus ward, addressed the new councillors when receiving his seal of recognition.
"Having once been an officer myself I know that officers in the shire don't have agendas," Mr Garnock said.
"They actually work hard to achieve what the shire councillors stipulate."
Mr Pittock also received a medal for his 2015-16 stint as mayor at the meeting.
"I deserve it," he joked.
"I've been sleeping at night since I decided not to seek re-election."
Ex-councillors David Gibb and Anne Shaw were not at the meeting to receive a seal of recognition in person.
First published in the Southern Peninsula News – 22 November 2016