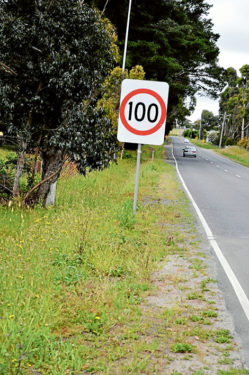 NEW 80kph speed signs went up on Mornington-Tyabb Rd between Peninsula Link and Coolart Rd, Friday 11 November.
But, just as quickly, they were taken down again after it was discovered an over-zealous contractor had made a mistake.
VicRoads media advisor Jarryd Stokes said the signs were put up a month early by mistake. He said they were changed back to the 100kph limit soon after.
"VicRoads will make the [speed] changes from 12 December and we apologise if this confused local road users," he said.
VicRoads has flagged the trial of lower speed limits on several Mornington Peninsula roads to "improve safety, and make the speed zones clearer and easier to comply with".
The roads are Mornington-Tyabb Rd, east of Peninsula Link, Arthurs Seat Rd, William Rd to Cloud St, Balnarring Rd, Old Moorooduc Rd to Warrawee Rd and Bittern Dromana/Dunns Creek Rd, east of Tubbarubba Rd to Coolart Rd.
Speed limits on these roads are described as "inconsistent, with varying speed limits causing confusion".
David Chalk, of the Tyabb and District Ratepayers' Association, said the new signs on the Mornington-Tyabb Rd, east of Peninsula Link, were "a bit patchy as some of the old 100kph signs were left, but we assumed that the old signs would come down in time," he said.
"Surprise. This morning (12 November) all the 80kph signs were gone and just stark posts remained to remind us of their fleeting time among us.
"Brand new 100kph signs have reappeared as you come off the Peninsula Link roundabout heading towards Tyabb.
"I know the reduction was only supposed to be for a trial period but this must be the shortest trial in history. Alternatively, did a resentful driver knock off the 80kph signs and are they now lying at the bottom of Devilbend [reservoir]?"