SOCCER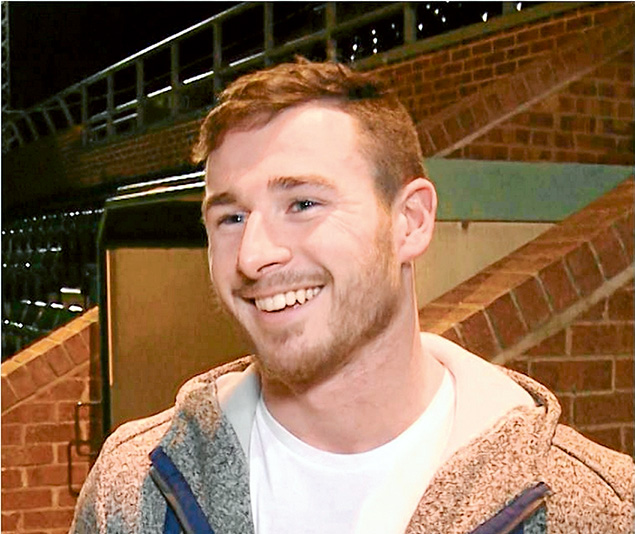 By Craig MacKenzie
JOSH Hine could be the key to Mornington's attempt to win a historic third straight State 1 championship in 2017.
The 25-year-old English striker is believed to be in advanced negotiations with the Dallas Brooks Park outfit in what would be a major coup for local football.
Hine's CV includes spells with Burscough, Vauxhall Motors, Clitheroe, Skelmersdale, Chorley and Stalybridge Celtic and he currently is on the books of National League North outfit Salford City.
He is one of four English-based players with whom Mornington is understood to have recently held discussions.
One of them, 23-year-old midfielder Ben McKenna, has decided to stay in England having been offered a contract by Southport FC.
The other prospective imports are Jack Truelove and Nathan Smith.
Truelove, 20, is a Burnley-born left back or central defender who has had stints with Oldham, Stalybridge Celtic, Colwyn, Brackley, Curzon Ashton and Hednesford.
Smith is a close friend of former Mornington striker Ryan Paczkowski, who now plies his trade with NPL heavyweight Bentleigh Greens.
Smith is a left-sided midfielder or winger with Brigg Town in the Northern Counties East League and is described on the club's website as a "great character to have around the club, fitness levels are very high and has a wand of a left foot".
It's believed that Mornington also has been in talks with two midfielders from rival State 1 clubs but senior coach Adam Jamieson refused to name them.
One of his targets could be Warragul United midfield dynamo Thomas Ahmadzai who also is on Langwarrin's radar.
Mornington is just one of a number of State 1 clubs that are going all out to win the title next year which should give them entry to Victoria's elite National Premier League setup.
A protectionist policy banning promotion to and relegation from the NPL had been in place during the competition's infancy and although there is yet to be an official announcement from FFV an understanding is in place that the policy will be dropped from next season.
This has sparked a signing frenzy among local clubs Mornington, Langwarrin and Casey Comets who know that they face enormous competition from four cashed-up Greek-backed clubs in Clifton Hill, Malvern City, South Springvale and Caulfield United Cobras.
Comets struck the first big blow recently when they announced the signatures of last season's Langwarrin captain Alex van Heerwarden and Frankston Pines captain CJ Hodgson but Mornington plans to outdo their rival by signing a number of visa players.
The only visa player currently on the club's books is Northern Irishman Sammy Stewart but he has received a significant job offer from the UK and will decide early next year whether or not to accept.
He already has told Mornington that he will play there next season should he remain in Australia.
"There's probably three or four players that might move on but that's not going to be because of my decision but more their decision," said Jamieson.
Rumour had been rife that key central defender Steve Elliott could join Langwarrin but along with Simon Webster and Kris McEvoy he already has signed with Mornington for 2017.
"They're the only ones that have been signed to date but I've spoken to most of the other boys and have commitments from them without them actually signing on the dotted line," said Jamieson.
"We start training on December 6 and I'd like to think that by Christmas I'll have 12 or 13 all signed up.
"We're planning to have a really strong squad. Last season we had a fantastic 13 and the plan is to have a really, really strong 16 with everyone fighting for positions.
"It's going to be a very tough league and you keep hearing what some of the other clubs are doing but I've always said that we've got to continually concentrate on what we are doing because if we veer away from that we'll be in trouble.
"We've got a second, a first and a first in the last three years so we're not doing too much wrong."
For much of last season Wayne Gordon led the way up front and Jamieson already has told the former Gretna and Workington Reds star that he is a required player for 2017.
If Hine can be paired with Gordon next season then Mornington will have a potent strike force.
Jamieson also plans to ramp up the sports science approach to competition after tinkering with GPS units last season.
"We tried an app from our physios that was intensity-based and we purchased five GPS units and started to build data on certain players.
"Now we're taking it to the next level and next season every starting player will have a GPS for training and games and an analyst will receive data weekly then report monthly to each player.
"We want to raise our peak performance and also monitor our injury rates so we can track measures we take for injury prevention.
"This is all part of us wanting to become a better club and getting to the NPL.
"We understand that training two nights a week and a match on the weekend isn't going to take us to our optimum level but once we get into three and four nights training in the NPL setup that's when these sports science tools will be well used."
Dale White has been re-appointed as senior assistant coach with Tony McKay team manager, Martyn Ashton will coordinate the sports science data, Jamie Paterson is reserves coach and Sophie Griffiths has been re-appointed head physio.
The club is in talks with Brad Zealley as a replacement goalkeeping coach for Peter Blasby who has joined Bentleigh Greens.
Late last season Mornington received an international clearance from Greece for 36-year old central defender Stylianos Maistrellis, who boasts a stint with AEK Athens on his CV, however it's believed that he no longer figures in the club's plans.