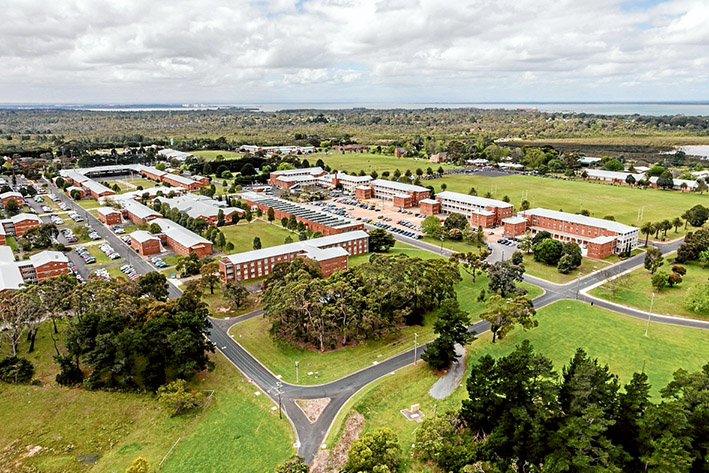 THE Department of Defence has ordered a "detailed environmental investigation" in and around the HMAS Cerberus base after the discovery of traces of a chemical carcinogen outside the base.
The per- and poly-fluoroalkyl substance (PFAS) was contained in aqueous fire-fighting foams used in training and is suspected of infecting soil and ground water as run-off.
Although phased out by the department in 2004, the chemical was used for decades at defence force bases throughout Australia.
HMAS Cerberus is one of 12 sites under investigation, with some, such as the Townsville RAAF Base, and HMAS Stirling near Perth, already found to have toxins in their water 300 times recommended safety levels.
A defence statement last week said four samples had been collected from off-base locations near the Western Port base in June – one groundwater and three surface water samples. No on-base samples were collected.
"The chemical was detected in one of the surface water samples, but this was below the interim screening criteria," the statement said. "PFAS was not detected in the groundwater sample.
"Based on the outcome of the preliminary sampling program, HMAS Cerberus will be subject to a detailed environmental investigation. [This] will determine the full nature and extent of PFAS on, and in the vicinity of, the base as part of defence's national PFAS environmental investigation program."
The investigation will begin next year and take 12 months to complete. It aims to provide "significant site-specific information to assist in the identification of suitable management and remedial options".
It will also seek to identify pathways and receptors – such as people, plants or animals that may have been exposed, and include a human health and ecological risk assessment and plan future action to mitigate risks.
The department stresses the offending chemical, PFAS, is found in food packaging and non-stick cookware.
The Environmental Health Standing Committee said: "There is currently no consistent evidence that exposure to PFAS causes adverse human health effects".
The department said it "remains committed to being open and transparent with local communities during the investigations".
"Once further information regarding the detailed environmental investigations is available, [we] will provide information to the local and state authorities and will engage with the local community at the earliest opportunity."
The issue of water and soil contamination is especially contentious at the Williamtown RAAF base, near Newcastle, and the Oakey Army Aviation Centre, Queensland, which recently became Australia's first proven cases of high-level PFAS contamination.
More than 400 Williamtown residents are understood to have launched a class action against the Defence Department, citing mental anguish and loss of property value. Oakey residents are also reported to be pursuing a class action.