BASKETBALL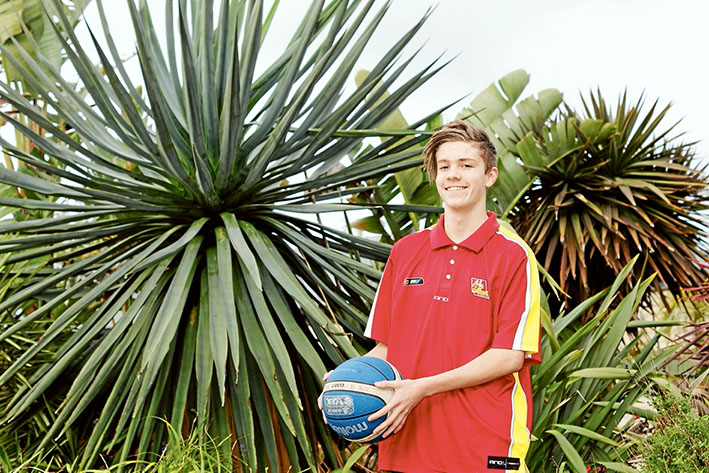 By Jarrod Potter
WHEN your first word is "ball", a life on court is probably in the making.
Tom Bahen, 14, a Western Port junior, has been basketball-crazy his whole life.
There's no other way to describe a Frankston kid who was bouncing a basketball before he was walking and telling everyone about his sporting passion.
But his isn't the textbook tale of rising through the ranks and dominating at every turn.
He hasn't been in the Jamboree mix. He hasn't featured in Southern Cross Challenge yet.
Realistically, he has never been on "the pathway".
Instead, his first foray at a Basketball Victoria Country try-out proved positive after going to Shepparton with faint hopes … but left with an invitation to the BVC National Intensive Training Program (NITP).
"It feels pretty good, it's hard to explain; it just feels like you're being noticed," Bahen said. "First time [in BVC Pathway program] I've done a tournament through Western Port when we went to the BVC champs and we won one game – but that's the only thing I've done.
"A couple of my mates have done Vic Metro and I really wanted to play for the state, so my parents were looking at Vic Country and that was what they decided on and I liked the idea."
While travelling from the peninsula up to Shepparton, nerves struck the versatile Steeler. "I definitely wanted to do it this year, but I was getting pretty nervous," Bahen said.
"I was nervous warming up but, as soon as we started playing, they all went away and I started playing normally.
"It was pretty tough going for six hours but really good as I learnt tonnes, because I've never done it before.
"I'm glad that I put my name out there – obviously it's worked – but learning all the different plays was great."
Bahen is a classic junior prospect: he plays guard, but is tall enough to cover any position and hopes to find more opportunities to drive the play if his name is called out for bigger and better duties in the months to come.
"I love playing a guard position – point guard to shooting guard – but because I'm kind of tall for my age, I play 1-5 – point guard to centre," Bahen said. "I love playing guard because I love being a leader on the court and a leader of the team."
The rapid rise is paving the way for Bahen to dream big – he doesn't want to stop at a Vic Country jersey … he wants to work hard and push his way into the junior green-and-gold.
"I'd like to end up playing for the state," Bahen said. "Definitely want to play in the ACJBC – like to get through that and play state against the rest of the country.
"My end goal though is to definitely try and play for the under-17 Australian team."
VJBL, school ball with Elisabeth Murdoch College and running out for Western Port in last year's CBL competition in the development squad keeps his schedule busy. But Bahen wants to take any opportunity at any time – he's that hungry to improve.
Bahen thanks his coaching mentor Kenny Brunner for everything he's done to push the young Steeler along and inspire his basketball ambitions. "Kenny Brunner – he's taught me more than anyone else and is probably my inspiration to keep playing," Bahen said.
"Not just for Western Port but basketball in general because of the things he teaches me and I want in the end for him to be my coach.
"We talk about things like life lessons and things to do with basketball as well."
The aim of the NITP is to identify and select outstanding basketball athletes 14-17 to an NITP squad and develop their mental skills, individual skills and team concepts which will aid them to compete successfully at national and international levels.