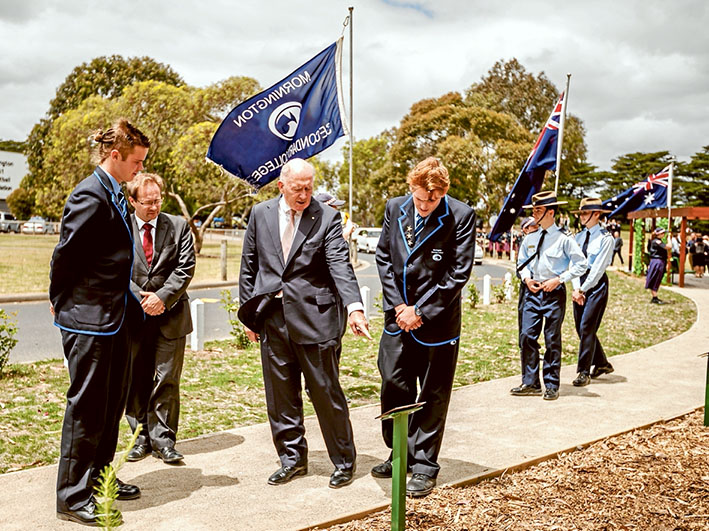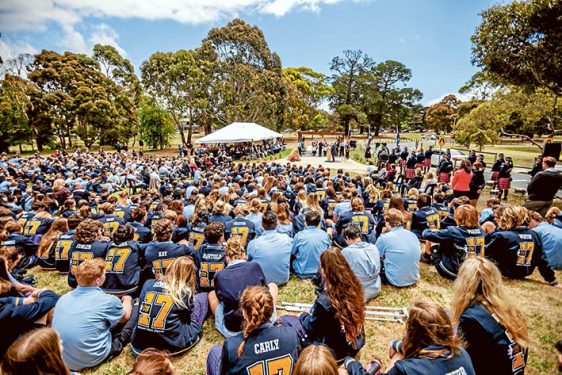 MORNINGTON Secondary College students played an active role in establishing a new World War I avenue of honour.
One Friday they hosted the Governor-General Sir Peter Cosgrove, Lady Cosgrove and Eastern Victoria MP and Parliamentary Secretary for Treasury and Finance Daniel Mulino at its official opening.
The avenue of honour – with its 21 plaques – commemorates the 21 Mornington district soldiers who died during the war and four women who enlisted as volunteers.
The idea came from the students. In 2012, a group, which included relatives and teachers, attended the dawn service and Lone Pine commemoration on the Gallipoli Peninsula, Turkey.
"It was a powerful and emotional experience for them," principal Linda Stanton said.
"They came home determined to establish a lasting memorial at the school for the community."
Seeds from the Gallipoli Lone Pine were obtained through the Australian War Memorial in Canberra. "We have 12 seedlings which have been carefully nurtured over these years, ready to plant," Ms Stanton said.
"The avenue of honour aims to convey a message from our youth, the present generation, to our community about the meaning of Anzac and ensure that it is not forgotten.
"We hope our avenue of honour will be a place of reflection for all members of the community, to remind us of the loss to the then small community of Mornington of many young men, many barely older than our students themselves."
Support for the avenue came from the state government and Victorian Veterans Council as well as community donations.
Ms Stanton said the school was indebted to the Mornington and District Historical Society, especially historian Val Wilson for her assistance and research.
The honour roll is based on her published work, The Names on the Mornington Honour Roll 1914-18. Who Were They?
A plaque also acknowledges the women volunteers: Sisters Ethel Biggs, Elsie Pitchford and Valerie Zichy-Woinarski, of the Australian Army Nursing Corps, and Lorna Robertson, British and Canadian Red Cross voluntary aid detachments.
The school has contacted descendants, including those of the women volunteers, who have indicated they will be at the opening. Several were at the 100 year Gallipoli anniversary commemoration at the college last year.
Ms Stanton said Mornington Secondary could be the only school in the country with a formal avenue of honour (other than a memorial) with plaques.
"We are not sure how to find this out," she said.