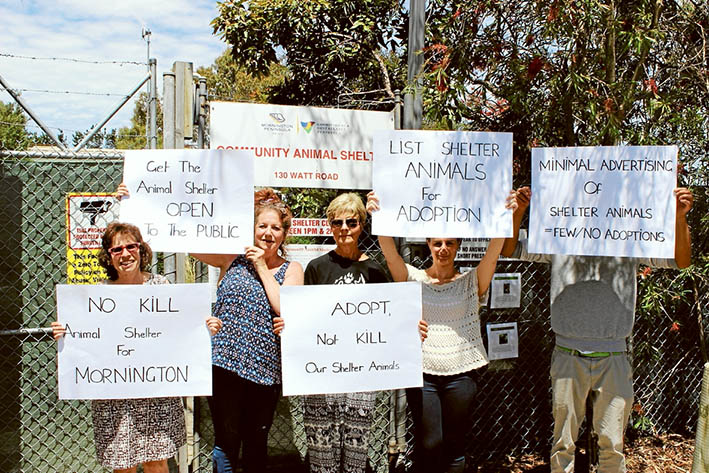 ANIMAL advocates are protesting against the number of cats being killed after being held at Mornington Peninsula Shire's Community Animal Shelter.
Around 25 people from across Melbourne attended the rally on Sunday 20 November at the Watt Rd pound.
Many are in animal rescue groups or advocacy work and used the time to discuss best practice management with colleagues.
The shelter, which holds animals found wandering on the peninsula, has been criticised for its alleged high-kill rates, barriers to adoption and limited public opening hours.
Rally organiser Rosy Fischer, a former volunteer at the pound, said she spoke out "after witnessing an apparent lack of interest from shelter management in facilitating adoption of unclaimed animals and high kill rates of impounded cats".
"The rally was to highlight the fact that very few animals are listed for adoption, the shelter is closed to the public and potential adopters have to go through a long-winded adoption process," she said.
"These practices make it difficult for animals to be reclaimed or rehomed from the facility and can lead to higher rates of euthanasia."
The main aim of the rally was to achieve a no-kill shelter, Ms Fischer said.
She said no-kill shelters have a euthanasia rate of 10 per cent or less, meaning most impounded animals are reclaimed or rehomed. Euthanasia is a last resort and animals are treated and rehabilitated before being marketed for adoption.
Ms Fischer said this was not the case at the Mornington shelter.
"I have seen healthy, rehomable cats taken away to be killed to make room for other cats coming in," she said. "In their statistics the shelter says only feral or very sick cats are euthanised, which is false."
Many of those attending were shocked the pound is not open [on a come-one, come-all basis] to the public, Ms Fischer said.
She told the rally she had seen animals left without water and new arrivals not checked for microchips or assessed for potentially contagious health issues. She said some of the violations contravened the Victorian Code of Practice for the Operation of Shelters and Pounds.
Ms Fischer said when she attempted to raise her concerns with shelter management she was banned from the pound. She said she contacted some shire councillors, but received only one response "over a year ago", telling her that the shelter was being "looked into".
Ms Fischer said she had received threats and abuse on Facebook in the lead up to the protest.
The shire's environment protection manager David Dobroszczyk said the pound was open to the public by appointment 8.30am-5pm weekdays and 10am-5pm Saturday and Sunday.
"Visitors come by appointment only because of occupational health and safety, quarantine and infection control [rules]," he said.
"Pets coming in start off in the quarantine facility because their health and ownership status is initially unknown. If they are not claimed within eight days, they move into the shelter."
Mr Dobroszczyk said pound staff were "fully aware of their duties to provide responsible animal management and animal welfare practices conducted under their legislative responsibilities of the Code of Practice and Domestic Animals Act".
"As a result, euthanasia rates are extremely low in our pound."
He said this was because of the shire's "great relationships with our veterinary partnerships, our rescue groups' support spread across Victoria, and our direct adoptions on PetRescue".
"All healthy cats are listed for adoption. However, if behavioural traits warrant further time, then they either remain in our care or are placed into a 'home environment' with a rescue group partner."
Animals arriving at the shelter are vet checked if ill, or assessed by staff qualified in veterinary nursing, Mr Dobroszczyk said.
He said 80 per cent of dogs were claimed within 24-36 hours, with those unclaimed being vet checked.
"The dedicated shelter staff work extremely hard to provide the highest calibre of animal care standards," he said.
By Danielle Kutchel with Stephen Taylor