SOCCER
By Craig MacKenzie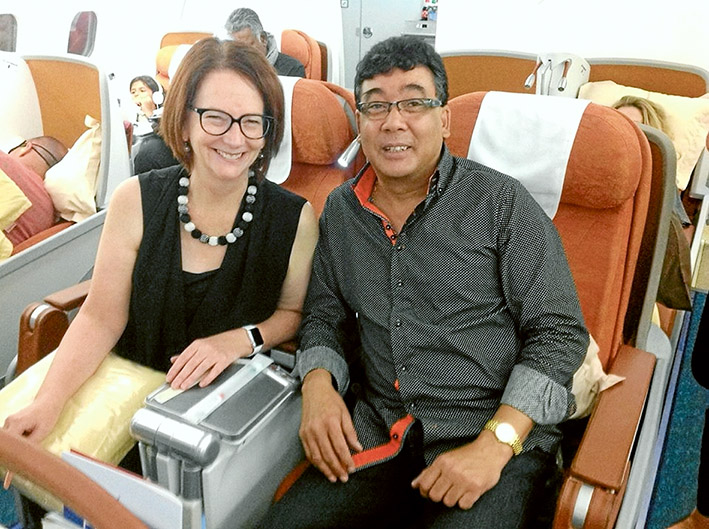 FRANKSTON Pines believes that it has secured its future after finally forming executive and general committees on the weekend.
After weeks of uncertainty the Monterey Reserve outfit has accepted the overtures of Mauritian-born barrister and solicitor Daniel Plaiche, a director of Club M Australia, a sports club aiming to promote Mauritian soccer at the highest level here.
Plaiche and others from the Mauritian expat community have joined recently relegated Pines and plan to bring Mauritian internationals to Australia with a view to getting the club back into State 1 South-East and eventually promoted to the NPL.
Some local clubs see the move as a thinly veiled takeover and last week expressed their concerns to Frankston councillor Colin Hampton, who represents council on a soccer liaison committee alongside representatives from the soccer clubs in the municipality.
Plaiche was quick to dismiss such a view.
"We need to be inclusive and engage with the local community and we certainly aim to do that," he said.
After Pines failed to elect an executive committee at its poorly attended AGM in late October the rumour mill went into overdrive with suggestions that the club would be forced to close its doors.
There was talk of a large debt, a deal with women's NPL club Southern United, a possible merger with local rival Peninsula Strikers and rumours of negotiations with the Bayside Football Association.
The administrative backbones of the club for the past five years have been president Gary Hodgson, his wife Pip (treasurer) and Steve Spencer, former vice-president and club secretary for the past two years.
All three were feeling the strain of running the club since the 2011 AGM albeit that under their guidance Pines had re-emerged from a long slump by winning promotion in their first year at the helm, winning the championship in 2014 and whittling down a near crippling $45,000 debt.
Talks with Southern United spokesperson Michael Woodward had progressed with the aim of the women's club basing itself at Monterey Reserve for the 2017 season.
However, Football Federation Victoria scuppered the move ruling that it breached the conditions of Southern's NPL licence.
An 11th hour bid by Strikers' head coach and former Pines star Craig Lewis to bring the clubs together to form an entity capable of challenging for an NPL berth failed.
Lewis was the sole Strikers' representative to meet with Hodgson and Spencer on Friday night as Strikers' senior club president Trevor Johnston and junior club president Steve Schreck were unavailable due to business commitments.
In the end the Plaiche option was compelling.
Hodgson remains as president for a sixth year with Spencer as secretary, Plaiche is the new vice-president, Phillip Dalais is the new treasurer and Luno Ash is the new junior secretary.
The five-member general committee consists of Andre Jumeau, Patrick Sookun, Tommy Mitchell, Lee Davies and Pip Hodgson.
"It will be business as usual for Frankston Pines with the exception that for the first time in five years we will have a proper general committee helping us," said Gary Hodgson.
"Any talk of a large debt is rubbish. The books are being sorted now and by the time that's done we'll have paid out the $4000 we owe the council and will not owe a single cent to anyone.
"We'll have a new major sponsor coming onboard as well as individual sponsors and we'll make that announcement next year.
"We've said all along that we needed people to help us run the club and if can get another community behind us and get players down and get them to attend social functions then all well and good."
The club also has held talks with State Member for Frankston Paul Edbrooke in a bid to arrange a grant to pay for new women's change rooms, disabled toilet facilities and a new kitchen.
Despite the off-field uncertainty senior coach Billy Rae has been unwavering in his support.
He was offered a coaching job two months ago at a more settled club but refused to abandon Pines.
He has been reappointed for 2017 along with assistant Paul Williams and goalkeeping coach Lee Davies.
Cedric Permal, Christopher L'Enclume, teenager Heip Tran and an unnamed English recruit have been training with Pines and have been very impressive.
"The intensity at training in one of the exercises we did the other week was unbelievable and it's easily the best it's been since I've been here," said Rae.
Permal can play in defence or midfield and L'Enclume can play in midfield or up front and although they have flown back to Mauritius the club is hopeful of their return early next year.
Tran has played with Keysborough while the English midfielder "has been training the house down" according to Rae.
CJ Hodgson has signed with Casey Comets while Kane Bentley is trialling in England.
The last training session for the year is Tuesday this week and training recommences on Thursday 12 January.
In other local news Peninsula Strikers' $1.08 million clubroom refurbishment at Centenary Park should be completed this week.
Four new change rooms have been added along with a social club makeover, 20 solar panels have been installed and the grounds reseeded.
An official opening of the clubrooms will be held in February.
Senior men's training starts on Sunday 8 January and women's pre-season gets underway on Thursday 17 January.
For more information visit the club website at www.peninsulastrikers.com