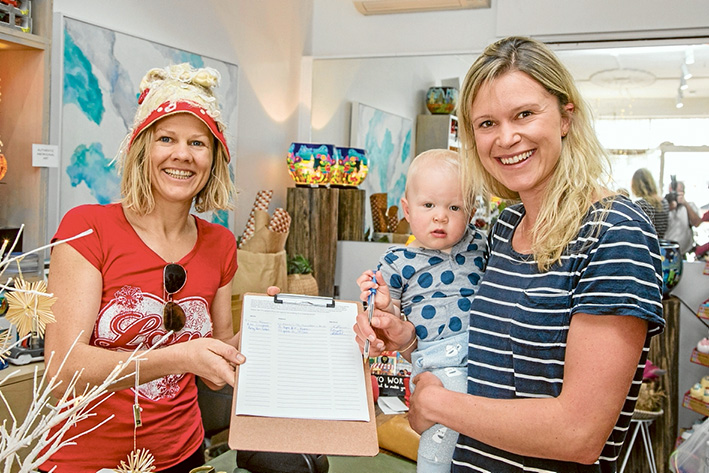 TRADERS worried about losing their businesses to a Mornington arcade development were out collecting signatures for a petition in Main St last week.
Plenty of sympathetic shoppers were eager to sign the petition which states in part:
"Did you know that demolition is planned for 55-61 Main St, the lovely set of four shops in a heritage building dating back to 1901? A shopping arcade, offices and apartments (three storeys high) right smack bang in the middle of Main St's quaint little shopping strip.
"Please sign this petition if you are against the building of a shopping arcade."
The traders fear the proposed development, opposite Blake St, will force them out of their businesses and ruin the heritage feel of the area which is partly protected by a heritage overlay.
Their four shops were sold for $4.2 million after being built in 1902 and renovated in the 1930s. Businesses affected are Eco D, Koh Living, an optometrist, and a tea shop, with two having been trading successfully for 15 years.
The shire's planning services executive manager David Bergin said a permit had been approved for a mixed use shopping arcade with a basement car park, shops, offices and nine apartments.
"As part of heritage considerations, the permit requires preservation of the existing shop frontages to Main St," he said. The interiors will be gutted.
Trader Tui Cordemans, of Koh Living, is adamant she will fight for her livelihood: "I wonder if the [shire] planning department ever thought about where the four shop owners would be able to go? It's not like there are four small shops for us to go to on Main St."
A former tenant, Pomme's Sue Clement, said she was "amazed" that the redevelopment application had gone through. "It's unbelievable that people who adore the older-style shops didn't complain louder," she said.
"It's going to be a big development and, with the high density of apartments already behind it, how does it make sense?"
Leases under which the four traders operate mean they can be asked to leave at short notice, although Ms Cordemans claims to have a five-year lease with a two-year demolition clause.
Developer Rocky Surace, says he agreed to retain the heritage shopfronts even though there was no legal requirement for him to do so, said that in January 2014 he had offered the traders five-year leases with one-year demolition clauses.
"That meant that if we decided to develop we would give them a year's notice to vacate, but they weren't happy with that," he said.
"They asked for six-month demolition clauses in case they found new shops in, say, four months, and didn't want to have to pay out six months of their leases, and we accepted that.
"I wanted them to feel secure even though the demolition clause is there. "We've been fair. The one-year demolition clause is standard practice."
Mr Surace said the $7-$8 million arcade redevelopment was not imminent. "I have told the lessees that we don't plan to do anything soon. We may not develop for five years, in fact we may sell and never develop."
But Ms Cordemans said a request by leasing agents Vinci Carbone for the tenants to sign "already-filled-out" Section 21 notices – giving them the right to end their tenancies quickly – was fuelling their unease.
She called the Small Business Commission to complain after feeling "bullied" over the Section 21 notices.
"We have a contract [lease] yet we were not even six weeks in the building when they tried to force the notices onto us," she said.
Vinci Carbone director Frank Vinci said he "could categorically state that the [landlord] has adhered to every aspect of the agreements which have been made with the lessees".
Main St Pro Fitness & Health proprietor Dom Hudson said: "I think it is important that [people's] voices are heard. I have no allegiance to any of the shopkeepers so it is through passion and, for once, speaking up that has prompted me to speak out.
"The heritage and uniqueness of Main St will definitely be lost … and it seems the shire picks and chooses what suits it.
"Sometimes situations need to be more than just money and this is one situation. Where will it end?"