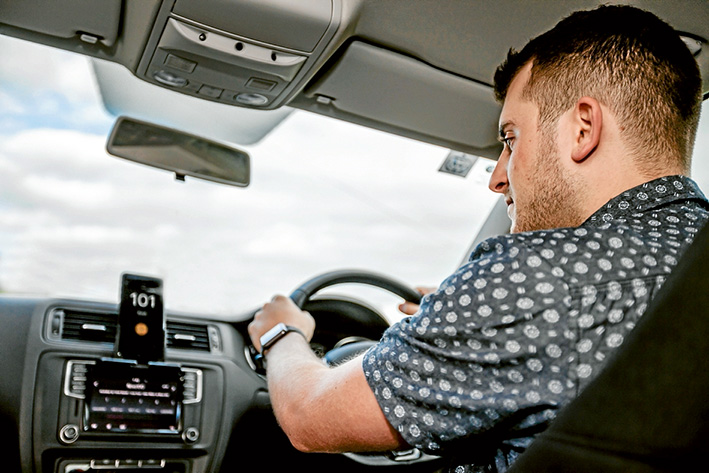 CONTROVERSY over a slew of speeding fines on Peninsula Link may have been avoided if motorists had been able to use Julian Varricchio's latest innovation.
The 24-year-old from Dromana has developed a free phone app that constantly displays and records a driver's real-time speed – especially useful in point-to-point calculations, such as on freeways.
The data can be used to determine an average speed and then be exported and possibly used as evidence to fight speeding infringements using what Mr Varricchio believes is incontrovertible data.
"The end goal is that drivers will be recording all their trips and providing themselves with accurate data on their driving," he said.
Superintendent Glenn Weir, divisional commander of Southern Metro, which covers Frankston and the Mornington Peninsula, doubts the app's potential abilities.
"It sounds like a gimmick to me," he said. "It might be a genius idea, but it has no scientific basis. It's like those breathalysers you have at home – not worth the trouble."
However, the data would have been useful for the 60 drivers fined in October for travelling at 108kph in the same section of Peninsula Link.
On Friday, the drivers were issued notices to say although police believed offences had been committed no further action would be taken against them at this stage.
The drivers have suggested that point-to-point cameras on the freeway are faulty, with many claiming they always use cruise control, making it unlikely they averaged 108kph in the alleged timeframe of three minutes six seconds.
"I became sick of hearing that there was no way to prove that [those] drivers weren't speeding, as the cameras are presumed to be correct," Mr Varricchio said. "I've been working hard these past few months to have an app developed that will help provide data that proves the average speed the drivers were doing."
The app: Fine Mate – Speedometer is suitable only for iPhones at present, but will be made suitable for androids soon, he hopes.
It works by tapping into the core location service of the phone. "We are aiming for the broader market in future but, at the moment it just suits users of Peninsula Link."
Mr Varricchio said the main issue when discussing speed cameras on Peninsula Link is that there was not enough consistent evidence and data.
"I'm hoping that my app can provide a low cost solution to the public, especially on the Mornington Peninsula, and generate enough data and results that they can be used effectively," he said.
First published in the Southern Peninsula News – 20 December 2016