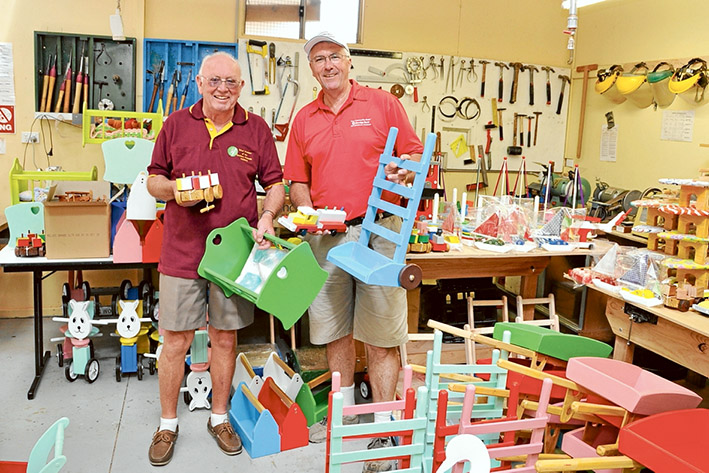 THE Woodworkers of the Southern Peninsula (WOSP) have been working hard to ensure it's a merry Christmas for all this year.
Meeting in Rosebud each Wednesday, the members build wooden toys and games, including rocking swans, prams, bikes, garages, helicopters, fire engines, wheelbarrows, tool boxes, carousels, trams, ride on trucks, doll cradles, quoits and yachts,  for needy families.
A special handover celebration last Saturday saw about 1000 hand-crafted toys given to charities Rosebud Salvation Army, Westernport Christmas Giving and Good Shepherd foundation, for distribution.
Gary Sanford, manager of the Bendigo Banks at Rosebud, Dromana and Rye, which donates funds to the group, said the woodworkers did an "amazing" job. Other sponsors in include the R E Ross Trust and Bunnings Rosebud.
Flinders MP Greg Hunt was also there to thank those behind the charity project.
"Many families are doing it tough and today is the combination of creating things and families that struggle, so, on behalf of the broader community I would like to thank everyone involved and congratulate you," he said.
WOSP is a group of mostly retired people at a workshop in in Rosebud, where every year a dedicated group within the club makes toys for charity.
First published in the Southern Peninsula News – 20 December 2016