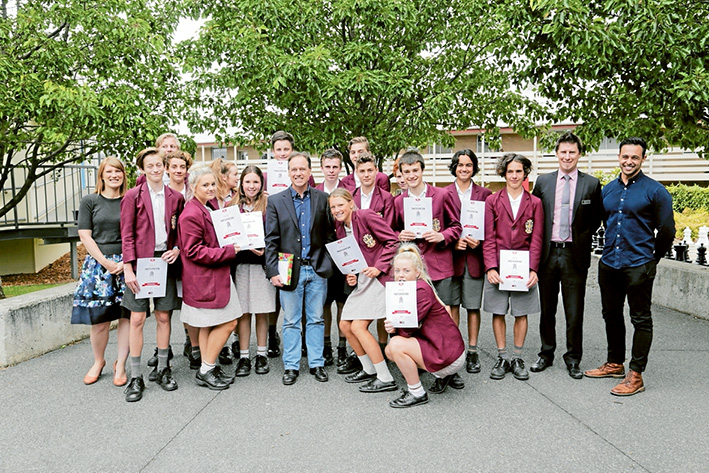 FLINDERS Christian Community College students put their business acumen to good use earlier this month as participants in the Foundation for Young Australians $20 Boss loans program.
The idea is that students receive $20 in seed funding and then take the opportunity to plan, budget and market a business idea, and have a month to run with it.
After receiving their money, the students brainstormed ideas and, as a class, decided to focus on food and beverage ideas. They researched their target market, planned business strategies and went about executing their plan.
In groups, they learned to read the market, adapt their strategies and make savvy business purchasing decisions to make the most out of their capital.
On a recent Friday, students showcased their initiatives to Industry, Innovation and Science Minister Greg Hunt, and received certificates for their achievements.
The college's head of business and commerce Brandon Wong said the students learned to come up with business plans and then test out their ideas. "They enjoyed the evaluation and reflection time at the end of the project," he said.
"They listed their successes and, most importantly from a teacher's perspective, learned from their mistakes. During the whole process, students developed confidence in communication and marketing skills, both of which are essential for running successful business."
Foundation for Young Australians deputy CEO Bronwyn Lee said the program was an example of how enterprise skills work in action. "The students demonstrated the incredible outcomes that can be achieved when they are given the opportunity to flex their entrepreneurial muscle and build their enterprise skills.
"By investing in young people's enterprise education we will equip and inspire them for a radically different future of work, helping them build the confidence, skills and mindset to not only seek jobs but create them."
The $20 Boss program attracted more than 10,000 students from 237 schools across Australia in 2016.
Evaluation reports from last year's cohort showed that 93 per cent of students learned they could start their own enterprise, 92 per cent said they felt they learned how to make a profit, 98 per cent of teachers said students developed confidence, and 96 per cent of teachers said students developed business literacy skills.