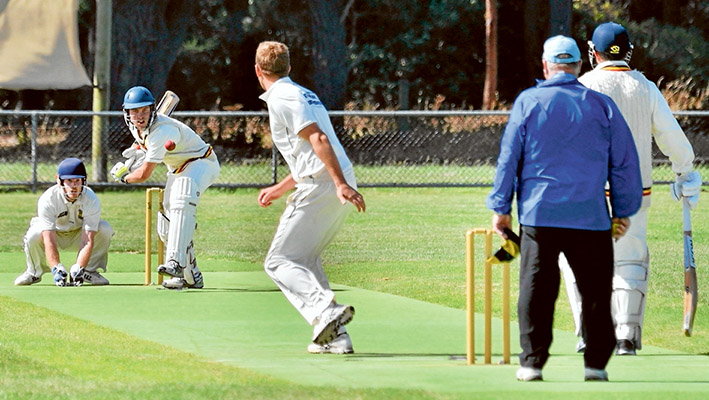 HAPPY New Year to everyone involved in MPCA cricket.
No doubt everyone has had a sensational break and are looking forward to an exciting back end of the 2016-17 season.
There is little doubt that there is plenty of excitement and challenges for clubs in every grade across all divisions.
There are just two one-day matches and three two-day games left in the season, kicking off this Saturday with a one-day match to launch the New Year.
Provincial
In Provincial, the fight for a spot in the top four is well and truly on with six teams with realistic chances of making finals.
Mt Eliza sits on top of the Provincial table with 70 points after recording two outright wins in the opening half of the season. Despite leading the table, they have lost one game this season.
Baxter, who have the best two players in the competition right now in Chris Brittain and Daniel Warwick, are in second place on 66 points after recording five wins from six matches. The draw came from a wash-out. Baxter are still the team to beat in the back half.
Langwarrin have been the surprise packet of the season, also sitting on 66 points and holding third place. When you talk of teams playing to their potential, the Kangas have done it to a tee. Whether they can sustain in for another five rounds is questionable.
Peninsula Old Boys are just lurking in fourth place on 54 points after recording four wins, a draw and a loss. The Old Boys know they just need to make it and they are in with a mighty show to defend their title.
Mornington are a game further back and has probably been the disappointment to this point. The Dogs had a shocker last season and haven't fared much better this season, sitting on 42 points with three wins, two losses and a draw.
The only other side capable of playing finals outside of the top five is Sorrento, who are in sixth place on 38 points. An outright victory has saved the Sorras' bacon though, having recorded three losses and a draw from its six games.
Pearcedale, Crib Point and Pines are all on 30 points and while they'll play a role on shaping the four, are highly unlikely to miss out.
Somerville is on 18 points and have also been a little disappointing, while Long Island and Moorooduc will fight out relegation.
Run Scorers: Chris Brittain (480), Daniel Warwick (404), Shamith Kannagarra (319), Bobby Wilson (291), Matt Foon (272).
Wicket Takers: Kaine Smith (20), Jon Forrest (19), Shaun Knott (18), Nick Baron (17), Rob Parslow (17), Pat Jackson (17), Russell Wilkes (17).
Champion Player: – Chris Brittain (98), Daniel Warwick (74.40), Bobby Wilson (65.10), Travis Campbell (56.30), Justin Grant (53.90), Keith Biggs (51.20), Shamith Kannagarra (50.90), Wade Pelzer (50.20), Matt Foon (48.20), Jon Forrest (46.70).
This Saturday (Rnd 7): Long Island v Baxter, Pearcedale v Mt Eliza, Moorooduc v Somerville, Crib Point v Mornington, Pines v Sorrento, POB v Langwarrin.
District
The race is well and truly on in District with nine sides all boasting finals claims.
The first game of the New Year will certainly sort out the log-jam of teams all vying for a spot in the finals. There are some season-defining matches this Saturday.
The top two in Red Hill (68 points) and Mt Martha (62 points) look to have the competition covered at this stage, although Delacombe Park in third place and Flinders in fourth place are less than a game behind on 54 points.
The Hillmen have won five from its six matches, including an outright, while losing to Mt Martha.
The Reds have four wins from six games, as well as a loss and draw.
Outside of the top four, Baden Powell and Heatherhill are just hovering in fifth and six place respectively, sitting on 50 points.
Rosebud are still in the mix, just a game outside the four on 42 points and given Main Ridge's talent, sitting on 38 points gives them a sniff – everything would need to go right for them, as it would for Seaford Tigers, who are 14 points outside the top bracket on 36 points.
Seaford will be looking to make a move from third bottom while Boneo and Rye will fight out relegation. Having lost four games outright, Rye is facing an uphill battle to prevent falling to Sub District next season.
Run Scorers: Jon Guthrie (385), Rhys Elmi (304), Nick Christides (292), Riley Shaw (280), Shaun Foster (260).
Wicket Takers: Rhys Whitling (30), Lincoln Toy (18), Jake Theobald (18), Luke Collins (18), Chris Cleef (18).
Champion Player: Rhys Whitling (83.70), Jon Guthrie (78.50), Rhys Elmi (68.40), Ash Mills (60.80), Riley Shaw (56), Simon Dart (55.70), Blake Hogan-Keogh (48.90), Jake Theobald (48.70), Nick Christides (48.20), Shaun Foster (48).
This Saturday (Rnd 7): Boneo v Seaford, Rosebud v Delacombe Park, Seaford Tigers v Main Ridge, Red Hill v Baden Powell, Mt Martha v Flinders, Rye v Heatherhill.
Sub District
The second half of the season in Sub District is going to be breathtaking, given all but one team is capable of playing finals.
At the halfway mark of the season, just one game separated fourth placed Dromana from second bottom Carrum.
The bottom would need to fall out of the Hastings (four wins from six matches including an outright, as well as a draw) and Ballam Park (five wins from six matches) buckets for them not to play finals, sitting on 62 points and 60 points respectively and holding the top two places on the ladder.
Tootgarook and Dromana are in third and fourth place respectively after recording three wins, a draw and two losses in the first half of the season.
There are then five sides on 30 points – Balnarring, Tyabb, Frankston YCW, Carrum Downs and Carrum, all separated by percentage. Skye is on the bottom with just one win.
Given the closeness of the season, getting away to a good start in round seven is critical.
Run Scorers: Travis French (322), Stuart Plunkett (315), Nick Taranto (286), Lai Leaunoa (261), Aidan Pateman (246).
Wicket Takers: Stuart Plunkett (18) Jye Voelkl (17), David Dervan (16), Andy Kitson (15), David Cross (15), Mitch Floyd (15).
Champion Player: Stuart Plunkett (92.5), Matt Whelan (69.10), Travis French (66.20), David Dervan (65.70), Nick Taranto (57.60), David Cross (48.10), Aidan Pateman (46.60), Brett Hudgson (44.70), Lai Leaunoa (44.10), Rob Hearn (44).
This Saturday (Rnd 7): Carrum Downs v Carrum, Hastings v Skye, Balnarring v Ballam Park, Tootgarook v Frankston YCW, Tyabb v Dromana.