SOCCER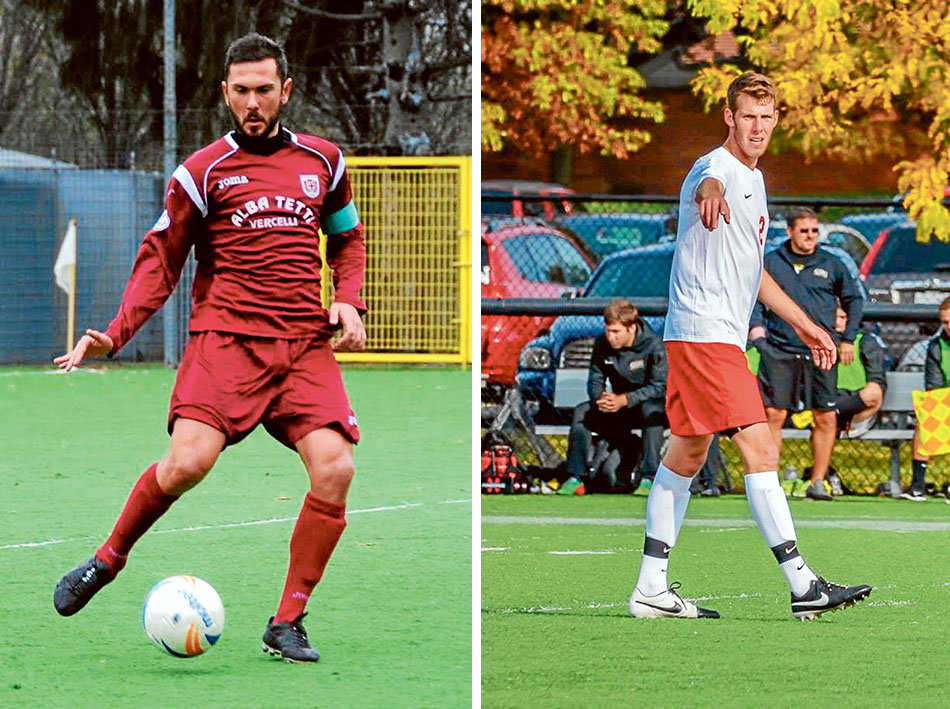 By Craig MacKenzie
PLAYERS from Italy, Switzerland and England could play crucial roles in Peninsula Strikers' assault on the State 2 South-East championship.
Italian defensive midfielder Leandro Parrella, 29, and Swiss central defender Raphael Stulz, 23, arrived in Melbourne last week.
The Italian ace has an impressive CV having spent 11 years at Vicenza Calcio in Serie B.
He started in the club's academy squad and eventually served a two-year apprenticeship before advancing to the senior squad.
Parrella spent two seasons playing with the under 21s and reserves before joining fourth-tier outfit Mezzocorona and helping it win promotion to Serie C.
He was signed by Sambonifacese in Serie D and helped it win promotion in his first season.
He had two more seasons with Sambonifacese before joining Domegliara in Serie D.
Stulz is a 194cm defender who has spent two and a half years in the US college system where he played with AFC Ann Arbor and Saginaw Valley State University.
He also has been on the books of Swiss club FC Chur and Liechtenstein-based outfits USV Eschen/Mauren and FC Schaan.
The English signing is 22-year-old attacking midfielder Danny Brooks who has been involved in Tranmere Rovers' Youth Development Programme for the past two years and is expected to arrive this week.
Brooks has had spells with Prescott Cables in the Evostik League First Division North and Welsh club Mold Alexandra FC in the Huws Gray Alliance League.
All three players were signed to football agency Soccer Smart Ltd, which holds trials in the UK, Europe and the US for players wanting to play overseas.
Last year's State 2 South-East champion St Kilda Celtic used Soccer Smart to bring players to Melbourne and recommended the agency to Strikers.
The club told Soccer Smart of its requirements and viewed a dozen videos before settling on the three players it believes were best placed to strengthen the spine of the team.
While the imports are important to the club's ambitions Strikers senior coach Craig Lewis won't stop there in his quest to revamp his squad for 2017.
"We are going for promotion. There is no question about that," said Lewis.
"And we are putting the infrastructure in place to support our ambitions.
"We've got a good committee and we have people working in the background on some good sponsorships so all being well with the new clubrooms being officially opened next month we will be in a position to be successful."
Right now Lewis is focusing on signing a quality striker. He has been in talks with his top target but won't name him out of respect to the player who has yet to commit to the club.
"I can tell you that if we get him we will be very, very happy," said Lewis.
"We're also talking to four other players who have played at a higher level and who will bring experience to us and a winning mentality."
First team keeper Richard Ojo has been released while Irish shot stopper Colin McCormack has been training with Strikers.
He is a former Langwarrin and Skye United keeper who has also attracted the interest of South Springvale gaffer Ari Drakos and Frankston Pines.
Teenage Springvale White Eagles keeper Daniel Shaw also is training at Centenary Park.
Billy Buchanan and Mark Duff will assist Lewis this season and Graham "Winker" Watson again is in charge of the reserves.
Matt Bennett is player liaison manager acting as a go-between for players, coaches and committee.
The club hopes to appoint a manager to oversee fitness programs, injury management, dietary requirements and recovery programs.
In other news Shane Tagliaferro has left Mornington and is being chased by Knox City and Doveton.
Others to have left Dallas Brooks Park are Paul McEvoy, who has trained with Knox and Eastern Lions, and former Oakleigh Cannons star Scott Webster, who may join Doveton while Frankston Pines could lose Matthew Hames and Jordan Avraham to Knox.
Here is Frankston Pines' pre-season schedule:
Friday 3 February v East Brighton at Monterey Reserve, 7pm (seniors); Tuesday 7 February v Skye United at Monterey Reserve, 7pm (seniors and reserves); Sunday 12 February v Nth Caulfield at Knox Regional Centre, 3pm and 4.30pm; Tuesday 14 February v Chelsea at Monterey Reserve, 7pm (seniors); Saturday 18 February v Harrisfield Hurricanes at Monterey Reserve, 1pm and 3pm; Saturday 25 February v Keilor Wolves at Monterey Reserve, 1pm and 3pm; Saturday 4 March v Pakenham Utd at IYU Recreation Reserve, 1pm and 3pm; Tuesday 14 March v Ashburton at Monterey Reserve, 7pm (seniors).
Scottish right back Stephen Dick was among a host of newcomers used by Langwarrin in Saturday's 1-1 draw in a friendly against NPL 2 outfit Eastern Lions at Egan Lee Reserve.
Midfielder Sam Scott is battling osteitis pubis, Caleb Nicholes, Nick Thorogood and John Guthrie were unavailable while Grant Lane was an absentee.
English recruits Connor Belger and Paul Speed arrive in the next fortnight.
There have been changes to Langwarrin's pre-season schedule. Here is the update:
Saturday 21 January v Baxter at Baxter Park, 1pm and 3pm; Tuesday 24 January v Knox City at Egan Lee Reserve, 6pm and 7.30pm; Saturday 4 February v Mazenod at Lawton Park, 1pm and 3pm; Sunday 12 February v Sunbury (Collins Cup) at Lawton Park, 1pm and 3pm; Saturday 18 February v Skye Utd at Lawton Park, 1pm and 3pm; Sunday 26 February v Whittlesea Utd at Lawton Park, 1pm and 3pm.
First published in the Frankston Times – 16 January 2017