PROVINCIAL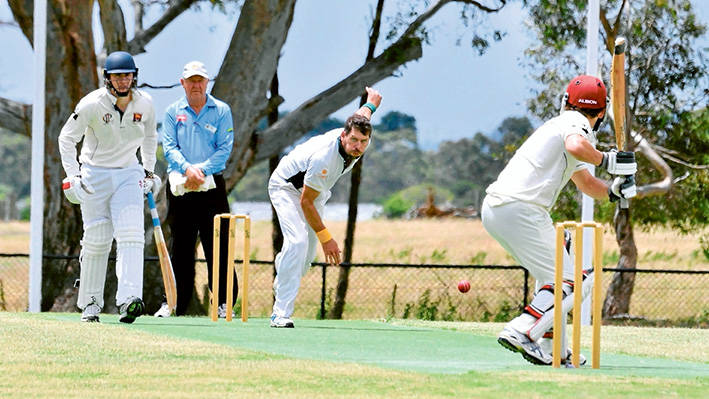 MORNINGTON Peninsula Cricket Association Provincial heavyweights Baxter and Peninsula Old Boys flexed their muscles in the first game of the new year on Saturday.
Baxter star Dale Irving snared 3/0 as his side took 4/0 against Long Island to easily win by eight wickets, while Peninsula Old Boys rolled Langwarrin for less than 100 to easily steamroll their fellow top four opponent.
Long Island is just a shadow of its past glory days and they were no match for Baxter.
Batting first after winning the toss, the Islanders scrambled to 8/116 with skipper Aaron Paxton top scoring with 35.
The Islanders were travelling OK at 3/92 before Irving took three of the next four wickets, while Chris Brittain removed Paxton to take the score from 3/92 to 7/92 in a blink of an eye.
Irving ended with 3/23 from 10 overs and Brittain 3/18 from 10 overs.
In reply, Baxter cruised to the total with eight overs remaining, losing just two wickets as Brittain smacked 64 opening the batting, Joe Rule opened with 34 and Daniel Warwick was unbeaten on 21.
In the battle for third place, Peninsula Old Boys had very little trouble against Langwarrin.
Dylan O'Malley went to town on the Kangas bowlers early and made a 54 while his teammate Wade Pelzer at the other end made two of the first 50 runs.
The Old Boys fell in a bit of a hole and lost 5/41, however, Will Crowder with 48 and Jon Forrest with 22 ensured they got to a reasonable total (7/167).
Mal Coutts with 3/25 from 10 overs was the pick of the Kangas bowlers, while Matt Prosser and Matt Campbell picked up two wickets each.
Langwarrin was bowled out with 11 overs remaining in reply. Skipper Travis Campbell with 36 was the only shining light. James LaBrooy with 3/27 was the best of the Old Boys' bowlers, while Adam Jones and Eivion Bowen snared a couple of wickets each.
Sorrento is well and truly back in the mix after Bobby Wilson starred against Pines.
Wilson picked up 3/29 with the ball and then hit a game-high unbeaten 81 to steer the Sharks to a very easy victory.
Damien Lawrence top scored for Pines with 58 after it won the toss and batted first. CJ King was also good for Sorrento with 3/28.
In reply, Sorrento hit the winning runs with six overs to spare. Nick Wilcox was the best of the Pines bowlers with 2/33 from eight overs.
Mornington dismantled Crib Point but neither teams' batting performance was convincing.
Crib Point sent the Doggies into bat and their bowlers did the job, dismissing the visitors for 127.
In reply, the Pies' batsmen again failed them, all out for just 57.
Somerville took just 24 overs to reel in Moorooduc's 62 runs.
Aaron Kaddatz took 3/15 from 10 overs and Matty Roach snared 3/17 from 10 as the Ducs were rolled for 62 in 39.3 overs.
Somerville lost three wickets on their way to the winning total.
Pearcedale caused an upset when it beat Mt Eliza.
The Mounties batted first and made an awkward 8/125 with Damien Kent top scoring with 30. Will Kennedy was the best of the Pearcedale bowlers with 3/27.
In reply, Pearcedale was 3/37 and then 6/77 before Max Blackburn took control of the innings and scored an unbeaten 63 to get his side over the line with more than six overs remaining. Lyle House took 3/51 from 9.5 overs for Mt Eliza.