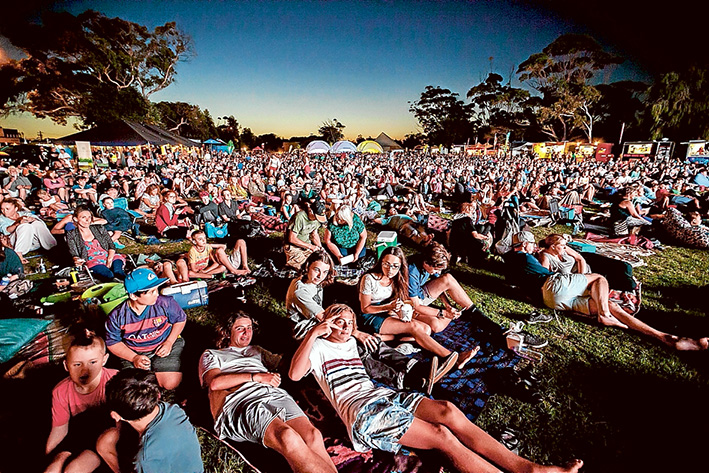 The Sphere Peninsula Short Film Fest is Victoria's largest public short film screening and will be held for the sixth year running in Rosebud from Friday 3 February to Sunday 5 February 2017.
Promising filmmakers will showcase their work in front of a panel of luminaries who will award individuals in a total of nine film categories including best film, best cinematography, best director and best screenplay.
This year's judging panel includes, Nicole da Silva (Wentworth, Doctor Doctor), Lachy Hulme (The Matrix, Offspring), Myf Warhurst (Spicks and Specks, Double J), Sigrid Thornton (SeaChange, Wentworth) Gyton Grantley (Underbelly, House Husbands) and Wayne Blair (Director, The Sapphires and Redfern). Shane Jacobson will MC the event.
The festival will attract over 7000 attendees who will roll out their picnic rugs to enjoy 20 short films (up to eight minutes in duration) and live music performances for free, plus dine at an 80-meter food truck alley. Film enthusiasts are also welcome to purchase tickets to feature film screenings at the Rosebud Cinema on the Friday and Sunday.
Founded by actor (and Rosebud local) Steve Bastoni, the festival attracts growing support from Australia's acclaimed actors including Sam Worthington and Russell Crowe.
With an expansive career in acting (most recently the AACTA award winning Wentworth and The Wrong Girl), Steve Bastoni offers young, ambitious filmmakers and actors a great opportunity to kick start their career.
"I started the festival to support the arts and foster local film culture in Victoria whilst providing a unique opportunity for emerging filmmakers and actors to showcase their work to industry heavyweights in a fun and relaxed environment," said Mr Bastoni.
"Short film is a great platform for emerging artists to practice their craft and have their work seen by potential employers and collaborators. It's been really gratifying to see the success that follows the winning entries with a number of them going on to achieve great success in both acting and filmmaking."
For a detailed three-day program and to purchase tickets to the Friday and Sunday feature film screenings visit:
www.peninsulashortfilmfest.com.au