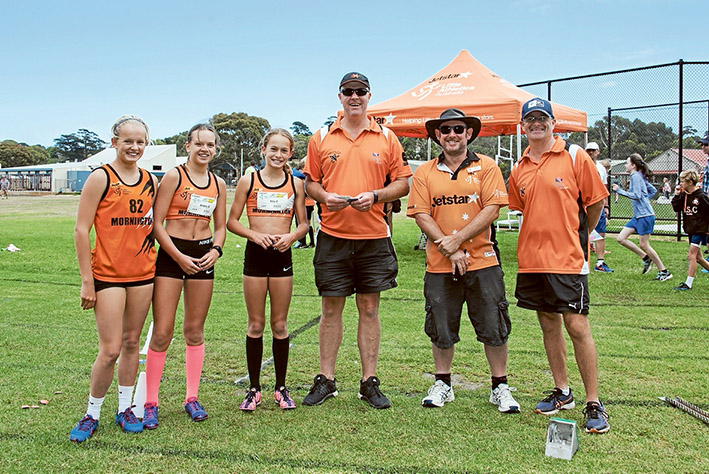 By Ben Triandafillou
THE Mornington Little Athletics Centre have completed their temporary move to the Mornington Secondary College whilst they await the construction of their new all-weather running track at Civic Reserve, Mornington.
The MLAC hosted their first day of competition at their new home on January 14 after outgrowing their old location at Mace Oval, Mount Martha after 13 seasons.
With the assistance of local companies such as Moorooduc Timber and Hardware and Charlton Degg, Land Development Consultants, the move to their new home was relatively smooth and without great cost to the club itself.
Charlton Degg, located in Mount Eliza, provided a free line marking survey of the track at the MSC saving possibly thousands for the Little Ath's.
"I know it's hard for them to always find funds, so I thought it wouldn't be too big of an ask to donate our time to help them out," Charlton Degg's director of surveying, Michael Degg said.
Moorooduc Timber and Hardware also offered a helping hand donating sleepers for the shipping containers to rest on, free of charge.
"They donated their time and expertise and we are very, very appreciative of their help," said club Secretary, Lisa Henry.
Although the conditions were overcast for the first home program at MSC, it didn't stop the eager young athletes from participating in their events at their new 400m running track. The larger track provided much needed space for field events which the Mace Oval lacked.
Now with a community of 284 junior athletes, the family-friendly MLAC are continually bringing on new members with their two week 'Come and Try' period, allowing youngsters to have a go and decide whether they enjoy it.
The Little Ath's runs most Saturday mornings beginning at 8:45am for a warm-up and concluding usually around 12pm. 
The Mornington Secondary College have also been generous, allowing the MLAC to utilise various facilities, including the Cottage which is being used as their new clubrooms.
"We've never had clubrooms, so it's fantastic that they are letting us use it," said Lisa Henry.
The MLAC hosted the annual Peninsula Challenge last Saturday, an interclub meet against the Westernport and the Southern Peninsula Little Athletics Centre's.
Although a busy day, the junior athletes had a ball competing against the other local LAC's, with an expected turnout of about 200 competitors.
Awaiting confirmation, the MLAC are hopeful that their $2 million IAAF standard athletics track, being funded by the federal government, will be ready for use in October, 2018.