PROVINCIAL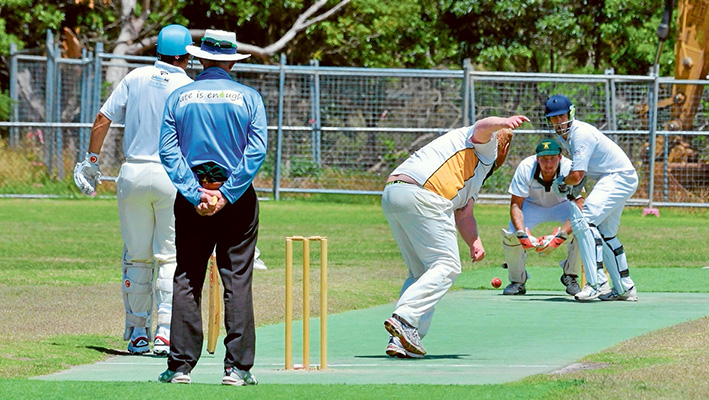 PENINSULA Old Boys have once again bucked the MPCA Provincial trend in round eight and posted a strong score against Sorrento.
On a day where the bowlers were on top in Provincial cricket on Saturday, POB posted a more than solid total of 8/277 to give Sorrento plenty to chase on day two of the match this weekend.
The next highest score of the round was from Pines against Somerville. The Piners were bowled out for 186.
The Old Boys once again had contributors throughout their card, starting with Wade Pelzer at the top of the order with 87, Dylan O'Malley opened with 42, Eivion Bowen contributied 43 and Will Crowder hit 63. Tommy Feldgen also contributed 18 at the back end of the innings.
The Sorras used seven bowlers throughout the afternoon, Rob Parslow the pick of them with 2/40 from 15 overs, while Leigh Poholke had a trundle for the third time this year for a return of 2/45 from 12 overs.
Pines were cruising at 1/112 against Somerville before the wheels fell of and the visitors lost 9/74.
Rhys Chalkley top scored for the Piners with 52 after opening the innings and Craig Entwhistle hit four fours and a six on his way to 44. Ashley Hupe also opened with 27, Harley Parker got going for 24 and Harley Peace-Stirling made 22.
Russell Wilkes was the star with the ball for the Eagles with 5/36 from 32 overs, including 18 maidens, while Matty Roach claimed 2/29 from 12.
In reply, Somerville faced the last six overs of the day and lost Sean Parker for four after he was run-out by Pat Jackson. The Eagles will pick up this week on 1/15.
Langwarrin were bowled out for 180 against Pearcedale in the Bushman's Cup after skipper Travis Campbell held the innings together with a team-high 53. Matt Prosser was the next best with 23 and Taylor Smith hit 22.
Kaine Smith was the destroyer for the Panthers, bowling 27 overs for a return of nine maidens and six wickets for just 39 runs. Will Kennedy also had an impact for the visitors, claiming 2/72 from 22 overs. Pearcedale is 0/3 off three overs in reply.
Mornington and Mt Eliza are evenly poised at Alexandra Park.
The Mounties batted first and were bowled out for 166. Russell Fulton (57), Justin Grant (34) and Lyle House (33) were the key contributors to ensure that their side made it past 150 after being 7/127 at one stage.
Matt Foon was at his devastating best for the Doggies with six wickets, while Rob O'Toole helped himself to a couple of wickets.
In reply, Mornington are 1/12 off nine overs with Rob Maskiell claiming a wicket for the Mounties.
Baxter will be chasing 169 for victory after bowling out Moorooduc or 168 on Saturday.
Baxter used eight bowlers throughout the afternoon against the Ducs, Sam Wolsgrove the best of them with 4/31 from 16 overs, while Chris Brittain picked up 3/30 from 14 and Chamika Sattambi snared 2/21 from 9.5 overs.
Ben Williams was a shining light for Moorooduc at the top of the innings with 59 runs while Michael Whincup scored 26.