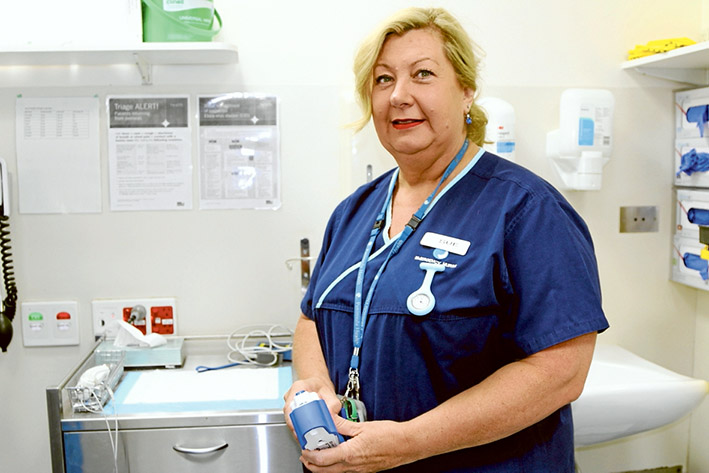 A YOUNG woman was bleeding out internally when she was rushed to Rosebud Hospital and into the care of Emergency Department Nurse Sue Simpson.
"The lady was suffering an ectopic pregnancy – which is when a fertilised egg implants itself outside the womb, usually in the fallopian tubes. This can cause the fallopian tube to split open which can cause life-threatening internal bleeding, which is what had happened to this patient," recalled Sue.
"Her blood pressure was dropping and we were pumping blood into her. We had to work so quickly, under pressure, to try and stabilise her for theatre."
Once Sue and the team at Rosebud Emergency had stabilised the patient, she was rushed into theatre where she was operated on and thankfully made a full recovery.
"We got a call from theatre saying we had saved her from imminent tragedy," said Sue.
"The patient then came back to visit us sometime later and thanked us – its visits like this that make our job so rewarding."
"Assisting in saving a life is just an unbelievable feeling."
Rosebud Hospital is there to provide emergency care for residents and visitors of the southern Mornington Peninsula 24 hours a day, 365 days of the year.
The inaugural Rosebud Hospital Summer Appeal will be held on 27 January, to raise money for the hospital so that nurses like Sue have all the equipment they need to provide people with the best possible care, when they need it.
There will be giveaways, prizes and volunteers collecting money around the Rosebud foreshore from 10am.
For more information or to donate now head to www.rosebudhospitalsummerappeal.org.au or text SUMMER to 0498 555 999.
First published in the Southern Peninsula News – 24 January 2017