SOCCER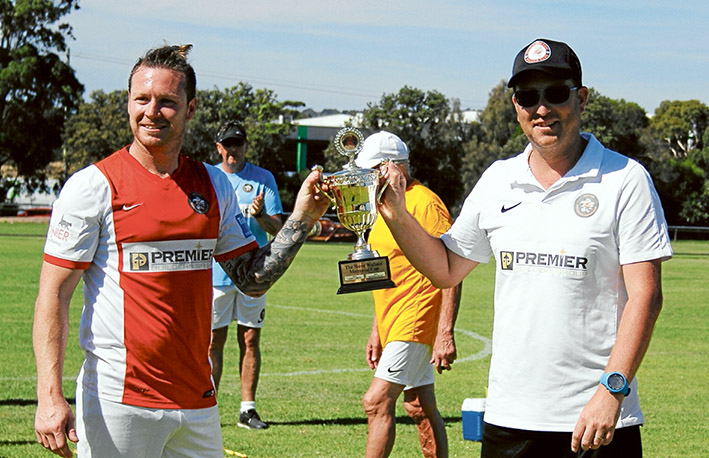 By Craig MacKenzie
SKYE United gaffer Billy Armour has his sights set on more new signings as he prepares for the upcoming State 3 South-East campaign.
Armour already has enticed Johnny Andrinopoulos and Jason Nowakowski to join last year's State 4 South champion and has a number of triallists under the microscope.
Andrinopoulos last played with Kingston City in 2015 and can play in central defence or as a defensive midfielder.
"Johnny's locked in which is good. His fitness levels are getting there and as soon as he gets his touch back he'll be a really good signing for us," said Armour.
Nowakowski played with Endeavour United last season and is a right winger.
"He's got a really good engine and he's got that bit of quality that we need," said Armour.
Triallists include Faheem Essa, a striker from Glen Waverley, Brazilian midfielder Anderson de Aranjo Stoze and Sandown Lions duo Khor Pal Gatluak and Wumjuck John Jang.
Gatluak can play in central defence or at right back and Jang plays up front.
Gatluak made a favourable impression in last week's friendly against Baxter at Baxter Park.
"He was quite solid to be honest and considering that Baxter are very strong up front and can also be physical Khor matched it with them so he could be a good asset for us," said Armour.
"It looks like it's going to be a very even league and I hear that quite a few teams have strengthened.
"Obviously you hear about Knox who have boys from the Pines and other local clubs so by all accounts they'll be a strong side.
"Because we've kept most of the squad from last year I think we'll be competitive and hopefully with a few additions we'll have more depth.
"If I can get another striker in we won't be too far away.
"We had somebody that we agreed with but he's not answering his phone now."
Forwards Matt Wilson and Alex Roberts are likely departures from last year's squad.
Travel issues have forced Wilson's hand while Roberts is rumoured to be keen to play at a higher level.
Armour's team manager is Eric Wilson, Liam George is reserves coach and Travis Mitchell is George's assistant.
Armour and George attended an FFA/AFC C licence coaching course on Saturday so former senior assistant Phil McGuinness was in charge of the squad that competed in the 2017 Steve Wallace Cup.
The annual tournament was again hosted by Mornington at its Dallas Brooks Park headquarters.
It drew a large crowd and the day's proceeds went to Frankston Hospital's emergency department.
The home side triumphed for the fourth year running having reached the final due to a late goal that edged out a gallant Baxter 1-0.
State 4 South's Baxter surprised many onlookers with wins over State 2 South East club Berwick City and State 3 South East outfit Skye United.
Baxter's arch rival and fellow State 4 side, Rosebud Heart, also proved tough to break down only losing 1-0 to State 1 opponents Casey Comets and Langwarrin.
Comets joined Mornington in the final due to superior goal difference over Langwarrin.
The final's decisive moment came in the second half when Stefan Soler, on trial from Frankston Pines, slipped the ball down the right to Mornington livewire Wayne Gordon who had made a diagonal run and as he gained possession the offside appeals from Comets players and bench fell on deaf ears.
Gordon squared the ball to Michael Freeman whose low first-time strike settled the issue.
The downside on the day was the serious left leg injury suffered by Skye United's Lachlan Campbell who fractured his tibia and also suffered two small fractures of his fibia.
Here are all the Steve Wallace Cup results:
11am: Mornington 0 Berwick City 0, Langwarrin 1 Seaford Utd 0, Casey Comets 2 Peninsula Strikers 1, Skye Utd 1 Baxter 4.
12pm: Langwarrin 0 Casey Comets 0, Mornington 1 Skye Utd 1, Berwick City 2 Sth Springvale 0, Seaford Utd 0 Rosebud Heart 1.
1pm: Mornington 4 Sth Springvale 1, Seaford Utd 1 Peninsula Strikers 1, Langwarrin 1 Rosebud Heart 0, Berwick City 1 Baxter 2.
2pm: Peninsula Strikers 0 Rosebud Heart 0, Sth Springvale 1 Baxter 0, Berwick City 1 Skye Utd 1, Casey Comets 4 Seaford Utd 0.
3pm: Langwarrin 2 Peninsula Strikers 0, Skye Utd 1 Sth Springvale 0, Mornington 1 Baxter 0, Casey Comets 1 Rosebud Heart 0.
Final: Mornington 1 Casey Comets 0.
In other news Langwarrin will welcome two more imports tomorrow (Tuesday) when midfielders Connor Belger and Paul Speed from AFC Liverpool fly in to Melbourne.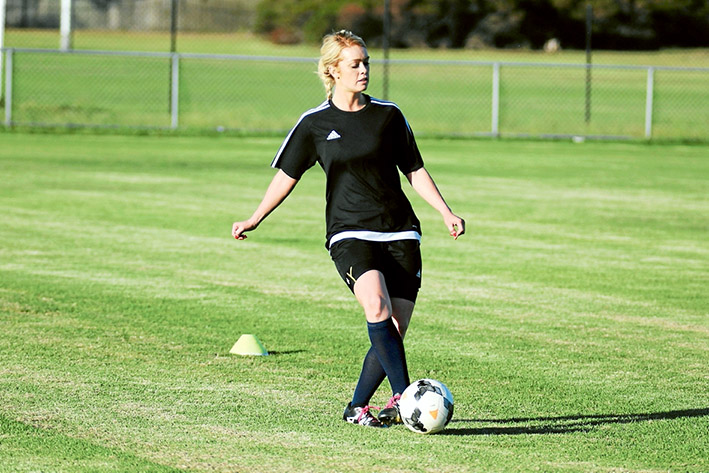 Gun Langy striker Rachel Stirton has signed with women's National Premier League outfit Southern United.
The 22-year-old is the younger sister of Dandenong City striker David Stirton and partner of Bentleigh Greens striker Ryan Paczkowski.
Goalscoring is in her DNA as her father, Iain, was a striker with Scottish club Rangers.
Peninsula Strikers' English import, Danny Brooks, debuted for the club at the Wallace Cup and the coaching staff were delighted with his performance.
The 22-year-old attacking midfielder from Liverpool lacks nothing in confidence and has already declared that he'll score at least 20 goals this season.