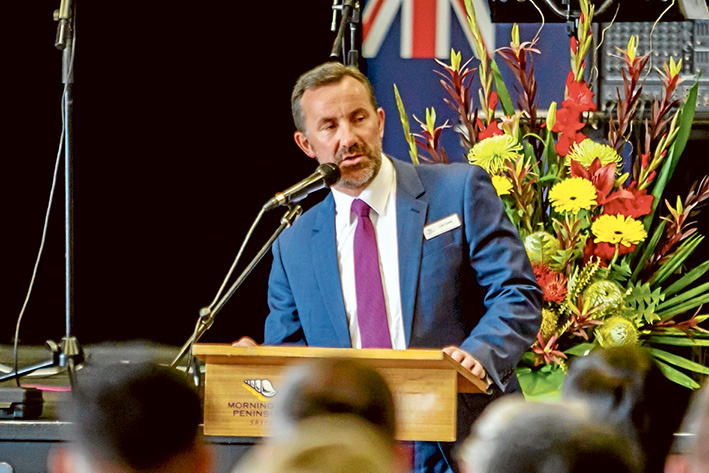 A POWER struggle has developed between one of Mornington Peninsula Shire's newly-elected councillors and its CEO Carl Cowie.
Although Mornington Peninsula Shire's CEO is the only officer directly hired by councillors, Cr David Gill says he is being denied access by Mr Cowie to the contract under which he operates.
Cr Gill says he asked Mr Cowie – who is paid more than $380,000 a year – for a copy of his work contract "because Carl has made it clear that the shire councillors employ him and he employs the rest of our shire staff".
"However, the answer to me [for his contract] was no."
Cr Gill also wants to know what KPIs (key performance indicators) are being used to measure Mr Cowie's performance.
Elected to represent Red Hill ward last October, Cr Gill believes eight former councillors and three sitting councillors have copies of the CEO's contract "and I can't see why the new councillors don't".
"He's the one who's made a song and dance about us [councillors] employing him and no one else.
"We employ him and we should all have the contract."
Cr Gill told The News that a councillor/staff relations policy "confirms that councillors even talking to staff is controlled by [Mr Cowie]".
A page of the "Councillor and staff interactions policy" seen by The News limits the number of staff as "points of contact to councillors" to 12, including Mr Cowie, the chief financial officer, chief operating officer, communications and media manager and governance manager.
Apart from the 12 officers listed in the policy, staff are told to "refer the matter to your manager" if contacted by a councillor.
The policy states that it is aimed at "ensuring that risks associated with improper or undue influence are mitigated".
It "defines potential, perceived and actual improper or undue influence or direction by councillors of staff".
"I figure that democratically elected local government councillors should have access to the work contract of the one officer that we employ on behalf of our community," Cr Gill said.
"The next time we hear about council transparency and accountability perhaps it would be fair to reach for a grain of salt."
Although only positions are named, the salaries of the shire's top executives are listed close to the end of voluminous the 2015/16 annual report.
A table of "responsible officers" lists one person as earning $380,000 – $389,999. Earlier in the annual report the Councillor Code of Conduct (adopted 6 June 2016) is described as providing "a framework for ethical and professional behaviour of councillors in the range of interactions between councillors, council staff and the public".
There are no rules controlling councillors speaking to the media.
Councillors will review the code of conduct in coming months.
The shire did not respond by deadline.
First published in the Southern Peninsula News – 31 January 2017