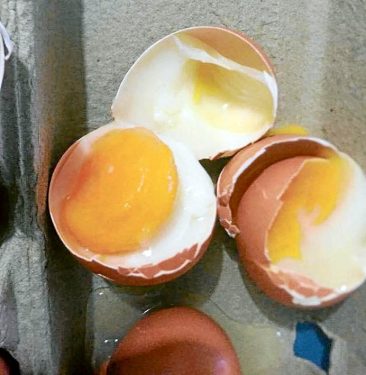 MORNINGTON Peninsula residents have received an illustration of the danger of leaving kids, pets – and even eggs – in their cars on hot days.
Rye Fire Brigade received a photo from a visiting Queenslander who left a dozen eggs on the backseat of her Holden SVZ for an hour. Temperatures soared to more than 30 degrees and, when the woman returned to her car, she found the eggs cooking away on the backseat.
The brigade's Kelly Stoner said it was amazing how quickly the eggs had cooked in the car, which had tinted windows.
"The temperature inside would need to be at least 75 degrees for an egg yolk to cook that quickly," Mr Stoner said.
With the mercury set to climb into the high 30s again this week, the eggs are a reminder never to leave kids or pets inside a parked car on hot days.
"The consequences if that were a child or animal in there are unimaginable," Mr Stoner said.
Rye Fire Brigade has worked closely with RACV to respond to lots of incidents where kids have been locked in cars. "We have heaps of tourists and traffic down this way over summer.
"Most of the time it's accidental with people rushing and parking at the beach, and somewhere along the way the kids and keys get locked in the car.
"People just need to be very careful over summer, and keep their keys on them at all times."
Ambulance Victoria figures show paramedics received 1623 calls last year about kids being left in cars.
"The risk of heatstroke and dehydration is real," a spokesperson said. "Within minutes the temperature inside a parked car can be 20-30 degrees warmer than outside.
"It may surprise people that leaving the windows down slightly has little effect on the inside temperature. Also, large cars heat up just as fast as smaller ones."
People who leave children unattended in a car face fines of nearly $4000 or up to six months jail.
But it's not only our kids who are at risk – pets too suffer if they are left in the car.
The RSPCA's recent Dogs Die in Hot Cars Campaign highlights the fact that pets – particularly dogs – can overheat even when the windows are down or the car is in the shade.
If you see a child or pet left in a parked car on a hot day, call 000.
Details: visit kidsafevic.com.au
First published in the Southern Peninsula News – 31 January 2017