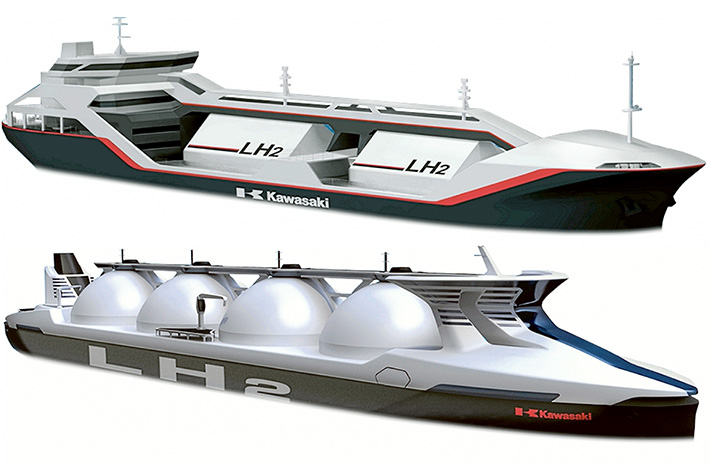 WHILE politicians and environmentalists are on a collision course over plans to build a coal gasification plant at Hastings, Kawasaki Heavy Industries is already building a test vessel to carry liquefied hydrogen.
The ship now being developed by the Japanese company is designed to carry 2500 cubic metres of the gas which will be produced with brown coal from the Latrobe Valley.
Because of hydrogen's high evaporation rate the ship will have a double shell to provide vacuum insulation.
Kawasaki says it will have the Liquefied hydrogen transportation pioneering test vessel ready by 2020, the same year the state government says a brown coal to hydrogen test plant will be operating in the Latrobe Valley.
Hastings MP Neale Burgess says the Kawasaki supply chain could eventually see "long coal trains or a coal slurry pipe bringing huge amounts of coal to Hastings, building of a huge coal gasification plant at Hastings and the produced hydrogen being shipped through Western Port".
Mr Burgess's opposition to the plant being built at Hastings or anywhere else in Western Port contrasts with that of his federal Liberal colleague Greg Hunt who has only said he is opposed to Crib Point being "reindustrialised".
Mr Hunt has said he is opposed to the Port of Hastings becoming "a coal port", but Kawasaki wants to export hydrogen, not coal.
Kawasaki is already planning a much larger ship to carry hydrogen if its test vessel is a success.
Without setting completion date, the company says it aims to build a ship capable of carrying 160,000 cubic metres of liquefied hydrogen.
Seen as heralding "the dawn of a new era … when hydrogen comes into wide use in society, hydrogen produced overseas at a low cost will need to be transported in large amounts", the company's website states. Environmentalists argue that processing the brown coal in Victoria means "our local community will bear the brunt of the climate and human health damaging emissions, while Japan enjoys the clean hydrogen fuel". "As far as I can ascertain, there has been no public consultation about Hastings and Western Port being the unlucky recipient of an industry – or at the very least the likely shipping hub – for a fuel responsible for some of the most horrendous incidents on the planet and loss of human life. Are we mad?" Jenny Warfe of the Blue Wedges environment group said.