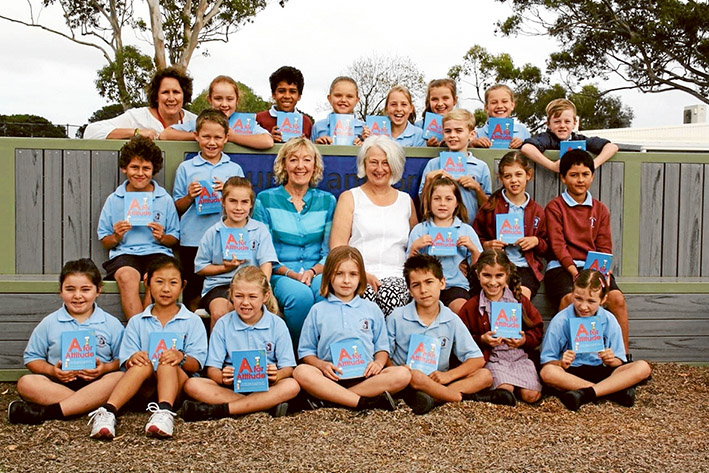 THERE'S Magic in the Air. That's the name of an upcoming concert to showcase the talents of peninsula children and teens, and, in the long run, inspiring them to dream and achieve.
In the lead-up to the concert, 10-19 year olds who can dance, sing, play an instrument, juggle or MC, are invited to apply to audition on stage before their schools and families at Mornington radio station RPP FM, 1-5pm, Sunday 19 February.
A maximum 20 places are available and bookings are essential.
The audition will lead on to the Can Do Kids family event at the Peninsula Community Theatre, 7–8.30pm, Thursday 4 May, where those chosen will perform alongside guest performer Cath Jamison, Australia's leading female magician and mentalist.
The events are part of the Attitude Books Initiative, which began when author Julie Davey, of McCrae, noticed how her father's optimism, meditation and change of diet affected his health during his battle with cancer.
Ms Davey's positive psychology books are read by children in 14 countries.
She began researching personal development principles, and couldn't help wondering, "Why aren't these positive philosophies, strategies and ethics taught — comprehensively — to kids in school?"
"In the 1990s there were few such books around for kids, and some teachers shared information with their students, but wellbeing certainly wasn't on the curriculum, so, while some children had access to this material, many did not," she recalled.
"So, I gathered a bundle of these universal principles — the ones practised by successful people for thousands of years and promoted by the likes of Napoleon Hill, James Allen, Norman Vincent Peale, Dale Carnegie and Stephen Covey, and packaged them in a little book, A for Attitude, which was self-published in 1998."
She said the book was popular with all demographics; could be used throughout the school years in the classroom and home; was used by therapists in schools and private practice; offered to improve family communication, and provided a bridge between home and school, as well as supporting other wellbeing programs.
Ms Davey's wish at the time, and ever since, was that every child would have access to this information.
"I had the 'what' and 'why' — but I just didn't have the 'how'," she said.
In 2007, Frankston Rotary District Governor Janet McCahon saw the book and asked: "Why don't we give this book, every year, to Grade 3 children, like many Rotary clubs do, as well as the dictionary?" The 'how' had revealed itself …
In 2013, the Rotary Club of Rosebud/Rye donated copies of A for Attitude to every Year 3 pupil at six schools on the southern peninsula, including Eastbourne, Rosebud, Rye, Tootgarook and Boneo primary schools.
"So many people have supported me," Ms Davey said. "Every child should have one of these books. Our aim is to get every parent sitting down with their child and guiding them through it."
Ms Davey said the Can Do Kids events gave children "the chance to perform and to show other kids that they can do it".
"I go to schools in Rosebud, Dromana and Rye to talk about positive thinking," she said.
"The reason behind everything we do is to raise peoples' awareness – and funds."
A for Attitude has been distributed to children in Victoria, NSW, Queensland and Western Australia, with support from Rotary clubs and small businesses. The group also received a grant from the Mornington Peninsula Shire for the distribution of 200 books to peninsula schools.
Apply for places at the Mornington audition by attitudebooks.org or call 0407 111 979.
First published in the Southern Peninsula News – 7 February 2017