DISTRICT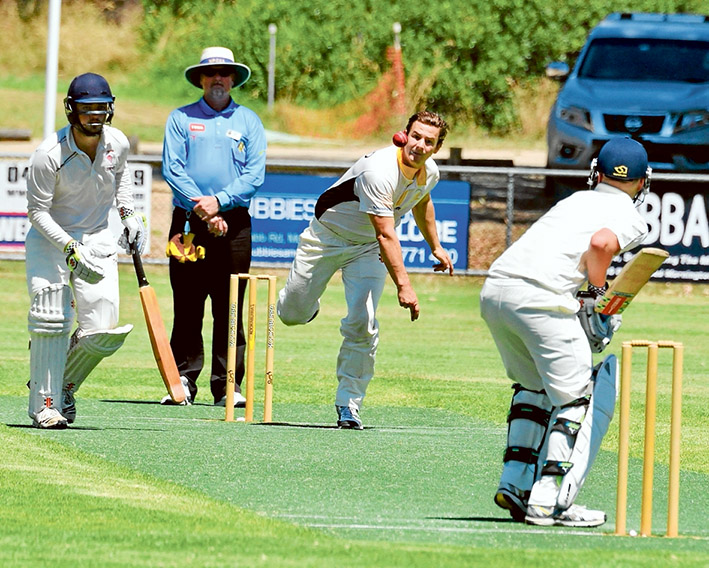 MAIN RIDGE has thrown down the challenge and is making its move in MPCA District cricket.
Going into the third last match of the home and away season, the Ridge are currently in fifth place on 62 points, along with Baden Powell and Heatherhill. Rosebud and Delacombe Park are four points clear on 66 points and Mt Martha is a game ahead in second place on 74 points. Red Hill is on top.
The Ridge can shake off Baden Powell if they can get the job done in this game against the Braves and keep the heat on the Buds, parkers and the Reds.
The Ridge have started wonderfully well, scoring 328 against the Braves.
Will Noall was the second Main Ridge player in as many week (with Gareth Wyatt) to score a ton, hitting a fine 114 on Saturday, while Shaun Foster continues to rack them up, scoring 73, and Michael Holmes hit 67.
Blake Hillman was the pick of the Braves' bowlers with 4/60 from 20.5 overs.
Top of the table Red Hill have slumped against Seaford after bowling the visitors out for just 105.
Glenn Collett was on fire early for the Hillmen, snaring 3/28 from 15 overs, while Tom McCarthy claimed 3/28 off nine overs and Simon Dart and Jimmy McCall picked up two wickets each.
However, the Hillmen crumbled to be 5/59 at the close of play. Simon Dart and Brent Martin are back in the sheds. Andrew Mock is not out 29.
Chris Cleef did the damage for Seaford, claiming 4/25 from 14 overs.
Heatherhill and Mt Martha is an interesting tussle. The Reds can give themselves some breathing space over the Hills if they can get the job done.
The match is evenly posed though after the Reds were bowled out for 167. Brett Wilkinson saved his side with 66, while Brett Maxwell was superb for the Hills with 5/36 from 19 overs.
In reply, Heatherhill is 1/24.
Boneo are desperately looking for their first win and to get off the bottom of the ladder and they are a big show against Rosebud.
Ryan Jellie scored 60, Cam Williams 58 and Justin Moore 44 to help the Pandas to 267.
Rosebud are sure to lose its place in the top bracket if it loses against Boneo.
Dealcombe Park are poised to record an easy victory against Rye.
Ricky Ramsdale snared 5/34 from 26 overs to help his side dismiss Rye for 133.
Andrew Stapleton was on fire early, picking up 3/29 before being struck down in his ninth over.
Delacombe Park is 1/18 in reply.
Flinders are still an outside chance of playing finals if things work out for them and they are every chance of beating Seaford Tigers after scoring 238.
Andrew Power was at his devastating best with 102 for the Sharks while Tom Clements was equally menacing. Power and Clements opened with 134. Ash Mills was the best of the Tigers' bowlers with 3/34.