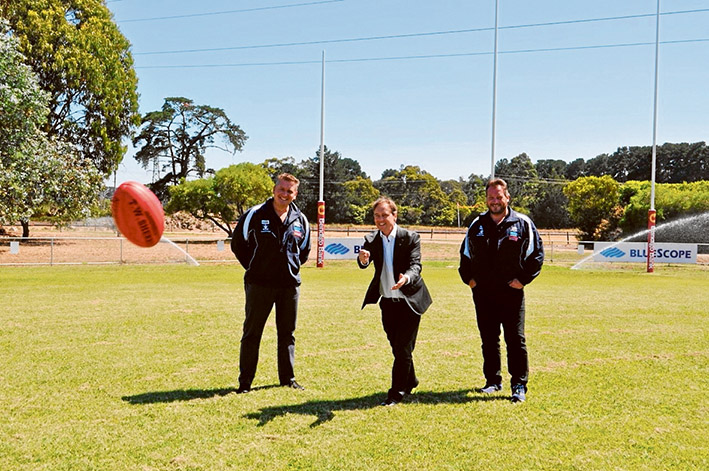 By Ben Triandafillou
THE Mornington Peninsula Junior Football League has been hard at work upgrading the BlueScope Reserve, including the installation of an infield irrigation system, which was greatly assisted by volunteers within the community.
Contributing to the improvements at BlueScope Reserve, the Federal Government's $150,000 Stronger Communities Program, the outstanding support from the Asset Manager of BlueScope Steel, Ron Bange, and the various volunteers that lent their time, has helped provide another great facility for the community to utilise.
"I am delighted the Mornington Peninsula Junior Football League has received $9,519 funding that will support a number of local sporting groups and schools in Hastings and the surrounding area that use the oval," Federal Member for Flinders and Minister for Health and Sport, Greg Hunt said.
"This has allowed for the installation of infield irrigation at BlueScope Reserve in Hastings."
MPJFL President, Andrew Souter, is incredibly appreciative of the work and donations that the community put together to improve BlueScope Reserve.
"We are very pleased to have this support from the Federal Government," said Mr Souter.
"The oval is used by a number of local sporting groups and schools and these funds have allowed us to install infield irrigation which has improved the playing surface, making it safer for all users."
"We would also like to acknowledge the tremendous support of BlueScope Steel and all of our volunteers who worked tirelessly to ensure this project could be completed."
Mr. Souter is thankful to the "unsung hero", Graham Palmer from Irritech Management Services who designed the irrigation system and offered his extensive expertise as well as the supporting partners from Toro Australia, Bendigo Bank, Grundfos Australia and Philmac.
"We couldn't have done it without them," said Mr. Souter.
The MPJFL were also successful in receiving a $10,000 Carlisle Homes Community Group grant, presented by host Shane Crawford, which will go towards important infrastructure at the communal oval to allow kids with disabilities access to programs on the oval for sport and other community activities.
The MPJFL are now underway in building the coaches boxes, first aid rooms and other facilities and are again receiving a staggering amount of support from local business' and volunteers.
Michael Buckley has done a remarkable job donating his time and money to assist with the project over the last few months.
With so many other business' and volunteers to thank for their help, the MPJFL are truly grateful and are now looking forward to the reserves completion.
First published in the Western Port News – 7 February 2017