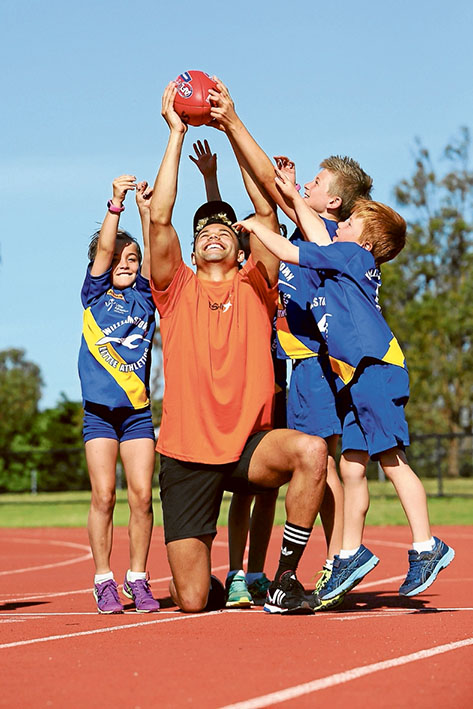 By Ben Triandafillou
NOW in its third year, The Little Jetstar's competition has expanded to allow entrants from Melbourne's Eastern Metropolitan region a chance to meet some "Big Heroes", including sporting icon, Western Bulldog's premiership player and 2016 Norm Smith Medallist, Jason Johannisen.
The local Little Athletics clubs will have the opportunity to enter into the competition with five lucky winners receiving an exclusive training session for them and 15 other friends, led by a Jetstar "Big Hero", who are some of Australia's most well-known athletes.
Participants also go into the running for a monthly prize, a $200 Jetstar travel voucher which can be used for their next family adventure. Winners of a monthly prize then go into the draw for the grand prize, being the exclusive training session with one of the star athletes.
Chief Commercial Officer of Jetstar Australia, Catriona Larritt, is ecstatic to see the Little Jetstars competition getting bigger every year and offering more opportunities for youngsters.
"Jetstar is the proud naming rights sponsor of Jetstar Little Athletics Australia and it is great to have some of Australia's biggest sporting stars on board. We're pleased to bring the Little Jetstars competition to all Jetstar Little Athletics Australia participants for the 2016/17 season," said Ms Larritt.
"Through our continued partnership with Jetstar Little Athletics Australia we look forward to further cementing our commitment to Australian communities. We are delighted to be helping little athletes reach for the stars."
Jason Johannisen is really excited to be involved in the Little Jetstars program and to give back to the community that taught him so much.
"Little Athletics holds very fond memories for me and is such a great start for any kid who loves sport," said Johannisen.
"I had a lot of fun in my Little Athletics days at the Melville Little Athletics club and it was a great excuse to stay healthy and get involved in the community from a young age! I'm really excited to be part of the Little Jetstars program and can't wait to have a run around with the kids."
Jetstar Little Athletics Australia now has about 540 centres across Australia with more than 100,000 girls and boys participating throughout the country.
Jetstar Little Athletics Australia welcomes kids with any level of skill or fitness between the ages of five and fifteen years. Little Athletics caters for all kids, encouraging them to achieve their own personal bests and continue to improve.
To enter the Little Jetstars competition, registered Little Athletics partipants can head to www.littlejetstars.com.au and describe in 25 words or less, how Little Athletics well help them become a big hero.
The Little Jetstars competition is now open, with entries closing on Tuesday 26 February, 2017.
First published in the Western Port News – 7 February 2017