DISTRICT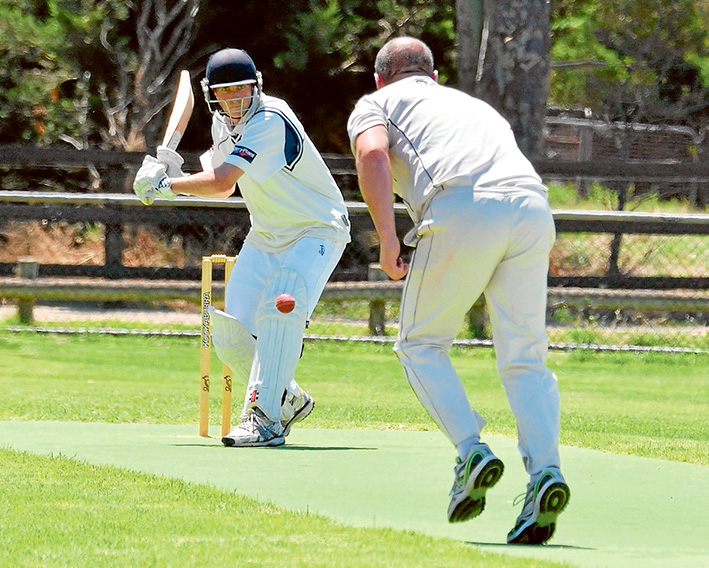 RYE has once again defied the odds and given itself every opportunity of maintaining its place in MPCA District ranks after a wonderful fighting performance against Delacombe Park on Saturday.
After the opening rounds of the season, Rye was the laughing stock of the competition. Opposition teams were just rolling up to matches with the expectation of recording an outright victory.
However, after a horror start, the Rye has now won a couple of games and remains clear of bottom place and relegation.
After the opening day of its match against Delacombe Park, it looked as though it was going to be on the receiving end of another loss.
The Parkers were 1/18 overnight in reply to Rye's first innings total of 133.
However, the Parkers lost 8/49 to be bowled out for 111 after 51 overs.
Ricky Ramsdale top-scored for the visitors with 32, while Rye skipper Tommy Baron led from the front with 6/34 from 25 overs. Matt Travena was strong with the ball too, taking 3/38 from 15 overs.
The win means that Rye (24 points) remains a game clear of Boneo (12), who recorded its first win of the season on Saturday.
Boneo and Rye face off in the final game of the season, a one-day match. Rye faces Rosebud at Rosebud in round 10, while Boneo heads to Seaford Tigers.
With finals still a reality for Rosebud, there's too much to play for them but Boneo is not without a show against the Tigers.
On Saturday, the Pandas were strong defending their first innings total of 267.
It was always going to be a tough ask for the Buds and they failed miserably, rolled for just 131.
Billy Quigley tried to fly the flag for the Buds with 72 with little support elsewhere.
Leigh Janssen though was the man to turn the game on its head, smashing through the Rosebud batting line-up and finishing with a sensational 8/37 from 28.1 overs, including 14 maidens.
Main Ridge rocketed from fifth to second place on the table after accounting for Baden Powell.
Defending 328, the Ridge rolled the Braves for 243 in 68.1 overs.
Ryan Barnett hit 70 at the top of the order for the Braves, who at one stage were in trouble four own for less than 20.
Travis Kellerman with 46 and Bryce Kellerman with 25 added some respectability.
Luke Collins took 3/53 from 19 overs for the Ridge while Shaun Foster claimed 2/22 off 5.1.
Baden Powell has now dropped to seventh place.
Heatherhill moved into third position on the ladder and Mt Martha dropped to fourth after the Hills recorded a strong win.
Chasing 168 for victory, the Hills resumed at 1/24 and picked up the winning runs with four wickets and one over in hand. Matt Bishop top scored with 53 and Kristian Miller hit 44.
A wonderful 181 by Seaford Tigers skipper David James saw his side record a strong victory against Flinders.
Flinders was defending 238, however, James scored three quarters of the runs on his own with the rest of the team contributing 102 (283).
The loss ended Flinders' season.
Red Hill never seems to disappoint in the home and away season. The Hillmen were 5/59, chasing Seaford's first innings total of 105 when play resumed on day two on Saturday.
Andrew Mock resumed on 29. Mock ended with 54 and was out with the score on 101, driving his side to victory. Lachy Klauer was at the other end, scoring 23 and going out once his team had recorded the victory. The Hillmen finished on 118, a 13-run win.
Chris Cleef finished with 6/51 for Seaford after having 4/25 overnight.