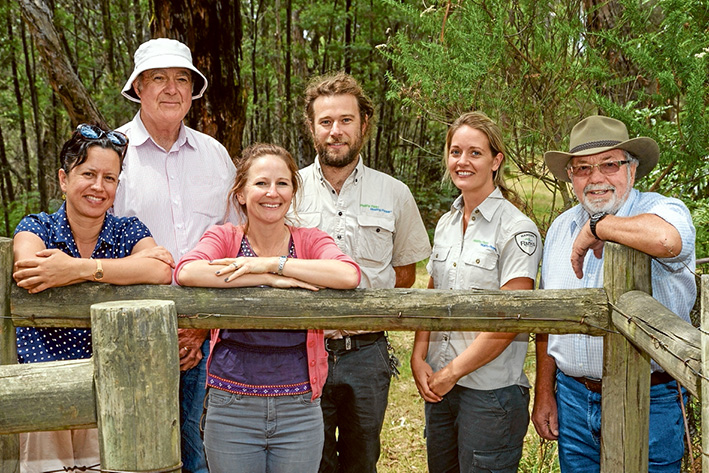 FARMERS near Buckleys Reserve, Merricks North, are being trained to kill foxes and rabbits.
The training is part of a feral control project by members of Merricks Coolart Catchment Landcare Group.
Dismayed by the high rates of native wildlife loss on the Mornington Peninsula, the group has received approval to implement feral controls, including culling.
The project is being funded by the Port Phillip & Western Port Catchment Management Authority through the federal government's National Landcare Program.
"This is a great chance for landholders to work together to take positive action that will benefit local indigenous animals," Landcare group president Alan Costello said.
"Rabbit reduction is critical in reducing damage to native plants, maintaining pasture and avoiding soil erosion. Residents are particularly excited about the opportunity to undertake fauna monitoring on their properties using motion-activated fauna cameras."
The Mornington Peninsula Landcare Network's Dr Jacqui Salter supports the project. "Much of the high quality habitat in the Merricks Coolart catchment region is privately owned," she said.
"If landholders can undertake feral animal control in a coordinated manner, we can better support indigenous animals in the region, many of which are threatened by fox predation. In addition, rabbits can alter habitat and compete with indigenous fauna for food."
Endangered species in the area, including the growling grass frog and the blue-billed duck will benefit as both are threatened by foxes.
Parks Victoria ranger Luke Ashford is pleased community action is supporting fauna at the reserve. "We think this is a fantastic project …and look forward to seeing the results."
Landholders close to Buckleys Reserve are invited to join the project. The first information session on Saturday 18 February will provide advice on how landholders can help protect indigenous fauna and be involved in the project.
Details: contact Mr Costello at aldian1@bigpond.com  or call 0412 549 994.
First published in the Southern Peninsula News – 14 February 2017