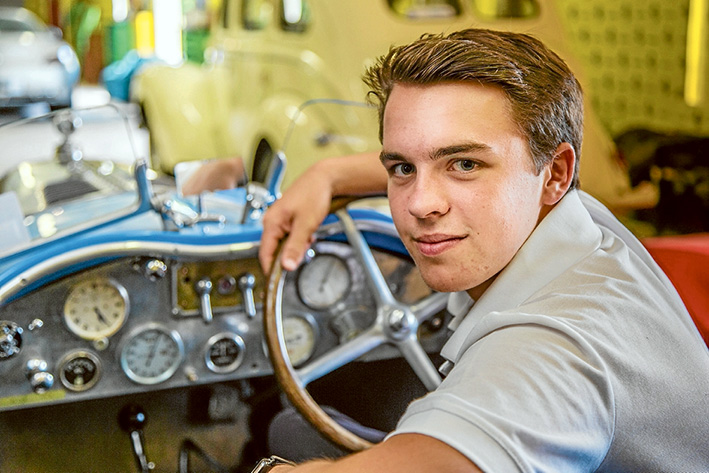 A MORNINGTON student has won the elite Rising Star Award from CAMS – the governing body of motor sport in Australia.
Circuit racer Simon Fallon, 17, who attends Haileybury College, joins the list of previous scholarship winners who became household names in motor sport: Daniel Riccardo, Matthew Brabham and James Courtney.
To earn the award, Fallon's race record was compared to hundreds of young drivers from all over Australia by champion racing car driver and CAMS director Mark Scaiffe. He was one of four chosen for the program and is now regarded as one of its elite drivers.
Fallon won the Burson Auto Parts Rookie of the Year title in last year's CAMS Jayco Australian Formula Four championship. He is also the Dual Junior National Heavy and Junior Clubman Australian Champion; Tasmanian Clubman Light Champion, and Victorian Junior Clubman Champion and won his first national circuit race on the Gold Coast in October.
Fallon will receive a $50,000 scholarship from the CAMS foundation to put together a racing program to compete in next year's Australian Formula Four championship.
A love of racing and success as a driver was almost preordained: from age seven Fallon's dad Simon would take him go-karting every weekend.
"They would drive all over Australia for events with 7am starts at the track," mum Jennie said. "Then there would be long drives home Sunday night after 6pm presentations from Sydney or Adelaide, so Simon could be back at school Monday morning and him [Simon senior] back at work to pay for the weekend costs, such as tyres."
Fallon's interest was also fostered by his car-mad grandfather, John Blanchard, with who he would attend races at such famous tracks as Bathurst, Phillip Island and, of course, the Melbourne Grand Prix. Mr Blanchard has been a car buff all his life and has what Mrs Fallon describes as a "car-lover's heaven" at his house at Mt Eliza.
"My father [John] did drive, but mainly socially in rallies and at Calder raceway as he had a young family – me," she said. "Motorsport was a lot simpler in those days, with no big teams.
"My brother drove with Tony Longhurst in a BMW in the V8 series."
The sport really became a passion when Simon's cousin and Tony's son, Tim Blanchard, became a successful driver of V8 Supercars.
Ms Fallon said the scholarship would provide a pathway for her son to progress into Formula Threes and then Formula Ones which race in grand prix events around the world.
"A lot of boys then go overseas to race," she said. "Most go on to bigger and better things in Europe of the US."
Fallon's win on the testing Gold Coast street circuit in October sealed his Rising Star award. "It was a big round. We were behind on points for the rookie championship and really didn't know how we would go," he said.
"Luckily, we were able to put the pressure on the others guys and they folded and we won."
Fallon says he gets an adrenalin rush from racing. "To go so fast and see the corners coming up certainly gets the blood rushing."
While making a career from Formula One is a possibility, Fallon is eyeing a successful future in V8 Supercars in Australia like his cousin Tim.
Or, there's the Indie car circuit in the US.
Talent is Fallon's entry to the world or motor sport in whatever class he chooses.
The first round of the 2017 Australian Formula Four championship will be at Sandown Raceway, 7-9 April.