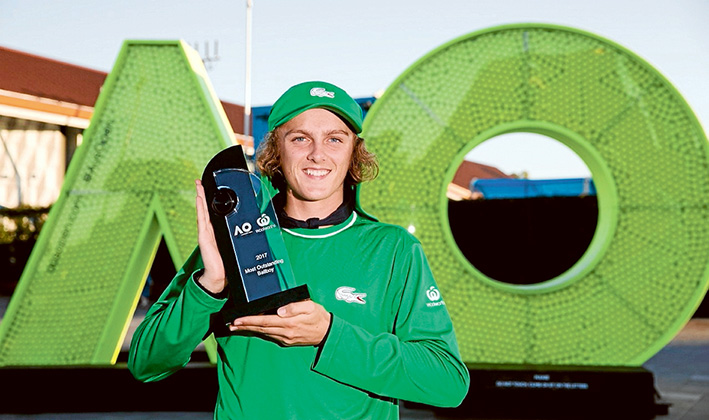 By Ben Triandafillou
MOUNT Eliza youngster, Campbell Steedman, secures a once in a lifetime opportunity to join the ballkid's squad at Roland Garros after earning the title of the "Most Outstanding Ballboy" at this year's Australian Open.
The 15-year-old was one of the top two ballkid's of 380 at this year's Australian Open and has earned a trip to Paris in April with the other winner, Summer Leatitagaloa, to take part in the ball kid's squad at Roland Garros.
To achieve the honour of being the most outstanding ballboy or ballgirl you have to demonstrate the highest level of skills and behaviour in your day-to-day duties both on and off the court.
Campbell has been a ballboy at the Australian Open for four years and with a lot of hard work was rewarded with opportunities to assist in several breathtaking finals and stand next to some of the all-time greats.
"All the hard work and training has rewarded me with being part of the men's singles, women's singles and men's doubles finals squads and a trip to Roland Garros. [I was] a little nervous at times, but you train hard to do the best job, while trying to enjoy it as much as you can." said Campbell.
For Campbell it was the support and friendships that made him come back every year and continue to work hard, as well as being able to be so close to so many fantastic players.
"It is nice to receive a gift at the end, but it is more about the friends you make and the opportunity to participate in the Australian Open," said Campbell.
An avid tennis player himself, Campbell plays locally at the Ranelagh Club, Mount Eliza and takes a lot of inspiration from watching some of his idols first hand at the Australian Open.
Campbell was fortunate enough to work with the ballkid's squad in the thrilling 2017 Men's Australian Open Grand Final where Nadal and Federer battled it out in an intense five-set match.
"It was an amazing and inspiring experience," said Campbell.
The Padua College student will be leaving for Paris on the 25th of May for 17 days with his family and some staff from Tennis Australia to assist in the French Open.
"I feel very privileged and excited about being given the opportunity to ballkid at the French Open and represent Tennis Australia," said Campbell.
Honoured to be given this opportunity, Campbell can't wait to leave for Paris and assist in another awe-inspiring, major Grand Slam.